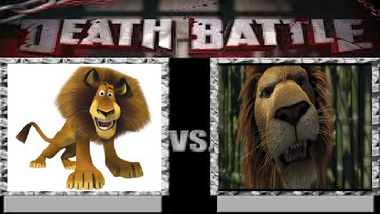 Alex vs Samson is a What-if Death Battle.
Description
Interlude
Boomstick: Madagascar and The Wild, two movies that take place in the zoo of New York and animals escaping to the African Wild Life... not to mention cheap remakes of The Lion King!
Wiz: However, we pit the 'mane' lions against each other to see who is king of the wildlife and zoo.
Boomstick: Alex the Lion from Madagascar.
Wiz: ...and Samson the Lion from the Wild.
Boomstick: He's Wiz and I'm Boomstick!
Wiz: And it's our job to analyze their weapons, armor, and skills to find out who would win, a Death Battle.
Alex
Samson
Fight
Results
Trivia
Who would you be rooting for?