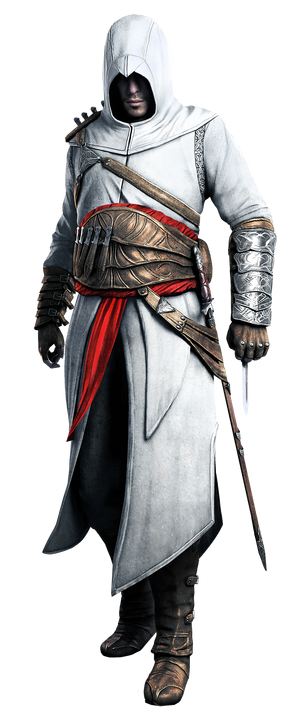 | | | |
| --- | --- | --- |
| " | La shai'a waqi'on motlaq bal kollon momken. (Nothing is true and everything is permitted.) | " |
| | ~ Altair | |
Altaïr Ibn-La'Ahad is one of the main protagonists from the video game series, Assassin's Creed.
Fanon Wiki Ideas So Far
Battles Royale
Battle Record
WARNING: The following tab will reveal the numbers of wins and losses for the following character. Read at your own risk.
Battle Record
Wins: 1
Losses: 0
Draws: 0
History
Death Battle Info
Background
Age: 25 (AC1) / 63-92 (ACR)
First name means "Flying eagle"
Born: January 11, 1165
Died: August 12, 1257 (92)
Height: 6 ft/182 cm
Weight: 170 lbs/77 kg
Born into the Order by two assassin parents
The first ancestor Desmond Miles accessed
Arsenal
Longsword

Became known as Sword of 

Altaïr years later

Short blade
Throwing knives
Hidden Blades
Crossbow
Hidden Gun
Armor
Leather vambraces
Leather greaves
Leather shoes
Three-layer waist belt
Eagle Sense
Sixth sense Altaïr has perfected from an early age
Can sense the emotions and intentions of those around him
Used to distinguish friend from foe
Able to find key targets, objects, and hiding spots
Feats
Turned the tide during attacks on Masyaf on at least three occasions
Fled from a crumbling temple during a sandstorm
Launched himself with a catapult
Can take on swarms of crusaders single-handedly
Reclaimed Masyaf from Abbas after a decades-long exile
Defeated Al Mualim
Defended himself against his armed assassin brethren unarmed
Gained knowledge from the Apple of Eden without losing himself to it
Crafted unbreakable armor with the Apple's wisdom
Served the Assassin Order up until the age of 92
Faults
Robes and armor designed more-so for stealth and lightness than protection
Limited arsenal and ammo
Stealth skills deteriorated with age
Ocassionally lets his emotions get the best of him
Gallery
Ad blocker interference detected!
Wikia is a free-to-use site that makes money from advertising. We have a modified experience for viewers using ad blockers

Wikia is not accessible if you've made further modifications. Remove the custom ad blocker rule(s) and the page will load as expected.