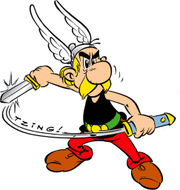 Asterix is the main protagonist of the Asterix the Gaul media franchise.
Fanon Wiki Ideas So Far
Possible Opponents
History
Death Battle Info
Background
Name: Asterix
Age: 35
Height: Unknown
Weight: Unknown
Occupation: Gaulish Warrior
Excellent swordsman
Physicality
Strength (No Potion)
Can punch someone larger than him off the ground.
Durability
Gets punched by Obelix and still lives
Speed and Reflexes
Outruns Asbestos, champion of the Olympic Games
Intelligence
Being the smartest Gaulian
High, usually uses his intelligence instead of strength
Can see through disguises
Survives Iris's hypnoric gaze by breaking his concentration by not taking things seriously, making Iris hypnotize himself
Magic Potion
Brewed by Getafix
Can be disguised as a traditional Gaulish soup
Ingredients:

Mistletoe
Fish
Rock oil (beetroot juice can be substituted)
Four-leaved clovers of the tamarind tree
Lobster (for flavour)
Strawberry (for sweetness)
Garlic
Salt
Cucumbers
Green Grapes
Hot Water

Gives superhuman strength and invincibility
Strength (With Potion)
Can lift big stones and trees
Can defeat legionaries with one punch
Durability (With Potion)
Speed and Reflexes (With Potion)
Can run more faster than his base form
Feats
On par with Obelix and other potion-drinkers
Helped Cleopatra by building a palace for her on time
Casually plows through Roman legionaries, who survived the destruction of their camp
Survives hits from other potion-drinkers
Defeated the evil alien Nagma, helping an Tadsilwenyan alien Toon (Asterix and the Falling Sky)
Succeeded all Twelve Tasks, which are inspired by Hercules (non-canon)
Weaknesses
His magic potion has a time limit
Still has to be careful with sharp weapons even while using the Magic Potion
Is incredibly impatient
Can be nerfed without his magic potion
Ad blocker interference detected!
Wikia is a free-to-use site that makes money from advertising. We have a modified experience for viewers using ad blockers

Wikia is not accessible if you've made further modifications. Remove the custom ad blocker rule(s) and the page will load as expected.