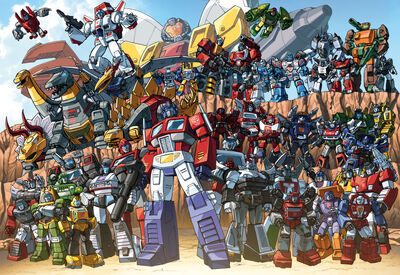 The Autobots are one of the factions of the Transformers franchise.
Fanon Wiki ideas so far
Autobot vs Autobot
Possibles Opponents
Bio
The Autobots are one of the primary factions in the Transformers mythos. They usually find themselves defending both their own race and other species against the Decepticons and upholding justice and freedom throughout the galaxy.
They are considered "the good guys" in most, but not in all Transformers stories.
A generally heroic, honorable group, they tend to be dedicated to peace, and feel a need to protect other races from the Decepticons. As a result, they are usually Transformers who change into non-combat oriented alternate modes such as domestic vehicles, cars, trucks, or rescue vehicles. This is not always the case, however, as their ranks certainly contain ne'er-do-wells, malcontents, and unsavory types, and the necessities of war have led many to adopt more combat-oriented alternate forms. While the Autobots have usually found themselves outnumbered by the Decepticons, the Autobots have always had home-field advantage, having not only the humans' military support, but also having more places on Earth to fall back on, while the Decepticons are entirely unwelcome on Earth.
Key concepts that repeat throughout most continuities are the use of the name Prime (or a variation thereof) to denote Autobot leadership, and the existence of an artifact of great life-giving power, usually referred to as a "Matrix", traditionally held by their leader.
The collective noun for Autobots is an "exaltation".
Known Members
Generation 1 Continuity Family
G1
Optimus Prime (leader) (has been a Powermaster, Action Master, Battlestar (as their leader), Hero, and G2 Gobot)
Action Masters:
Aerialbots:

Alpha Bravo
Barrel Roll
Powerglide
Superion:

Silverbolt (Aerialbot leader)
Air Raid
Fireflight
Skydive (Aerialbot)
Slingshot

Aquaspeeders:

Speedstream (Aquaspeeder leader)
Aquafend
Deluge (G1)
Jetstorm (G1)

Arcee (has also been a Wrecker)
Battlestars:
Beachcomber
Blaster (has been an Action Master and Interplantery Personnel Exchange Program volunteer)

Eject
Flip Sides (Decepticon sleeper agent)
Rewind
Slamdance
Steeljaw
Stripes

Brainmasters:

Star Saber (Autobot Brainmaster leader)
Road Caesar:

Blacker (Road Caesar trio leader)
Braver
Laster

Brawn
Chromia
Cliffjumper
Clones:
Computron/Technobots:

Scattershot (Technobot leader)
Afterburner (G1)
Lightspeed
Nosecone
Strafe (G1)

Cosmos
Dipstick
Dinobots:

Paddles
Snarl
Volcanicus

Grimlock (Dinobot leader) (also Action Master)
Slag
Sludge
Snarl (also Action Master)
Swoop

Drift (formerly Deadlock) (defected from the Decepticons)
Elita One
Firestar
Flame (rogue)
Flareup
Gears
Glyph
Godmasters:

Ginrai (Autobot Godmaster leader)
Doubleclouder (defected from the Decepticons)
Lightfoot
Ranger
Road King

Grapple
Greenlight
Guard City

Fire Chief (Guard City team leader)
Fly-Up
Safety
Sparkride
Streetstar

Headmasters:

Fortress Maximus (Autobot Headmaster leader)
Brainstorm
Chromedome
Hardhead
Headmaster Juniors:

Cab
Minerva
Shuta Go (Goshooter)

Highbrow
Hosehead
Nighbeat
Siren

Hoist
Hound
Hubcap (G1)
Huffer
Interplanetary Personnel Exchange Program:

Clamp Down
Deep Cover
Red Alert
Sunstreaker

Ironhide (has been a G2 Powermaster and G2 Gobot)
Jazz (has been Pretender and Action Master)
Jetfire (defected from the Decepticons)
Kaput
Lancer
Lightformers:

Deftwing
Ironfist (has also been a Wrecker)

Metroplex
Micromasters:

Battle Patrol:

Big Shot (Battle Patrol leader)
Flak
Sidetrack
Sunrunner

Construction Patrol:

Takedown (Construction leader)
Crumble
Groundpounder
Neutro

Countdown
Drillbuster (partnered with Roadfire)
Erector
Groundshaker
Hot House
Hot Rod Patrol:

Big Daddy (Hot Rod Patrol leader)
Greaser
Hubs
Trip-Up

Ironworks
Micromaster Combiners:

Astro Squad:

Barrage (Micromaster) & Heave
Moonrock & Missile Master (Astro Squad leader)
Phaser & Blast Master

Full-Barrel & Overflow
Metro Squad:

Oiler (Astro Squad leader) & Slide
Power Run & Strikedown
Wheel Blaze & Roadburner

Pipeline & Gusher
Retro & Surge

Off Road Patrol:

Powertrain (Off Road Patrol leader)
Highjump
Mudslinger
Tote

Overload
Race Car Patrol:

Roadhandler (Race Car Patrol leader)
Free Wheeler
Swindler
Tailspin

Recue Patrol:

Fixit (Rescue Patrol leader)
Red Hot
Seawatch
Stakeout

Recue Patrol Team:

Holi (Rescue Patrol Team leader)
Boater
Fire
Pipo

Shotbomber (partnered with Sky Garry)
Sixbuilder/Build Team:

Crush-Bull (Build Team leader)
Digger
Gran Arm
Iron Lift
Mixing
Treader

Sixliner/Linear Team (also Battlestar):

D-Go (Linear Team leader)
Alan
Joe
Leaf
Night
Spark

Sixtrain:

Desire (Sixtrain team leader)
Atlan
Converter
Raise
San D-Go
Windy

Sixturbo/Turbo Team:

Road Police (Turbo Team leader)
Circuit (OC)
Discharge
Glide
Neo-Wheel
Sireen

Sixwing/Wing Team:

Chain Gun (Wing Team leader)
Falcon (OC)
Flanker
Missile Run
Raker
Supersonic

Sonic (partnered with Sonic Bomber)
Speeder (partnered with Dai Atlas)
Spinner (partnered with Grandus)
Super Car Patrol Team:

Gingham (Super Car Patrol Team leader)
Black Heat
Deadhour
Road Hugger (Autobot)

Mirage (has also been a G2 Gobot)
Monsterbots:

Doublecross
Grotusque
Repugnus

Moonracer
Omega Supreme
Outback
Pipes
Powered Masters:

Dai Atlas (Powered Master leader)
Roadfire
Sonic Bomber

Powermasters (G1):

Doubledealer (also Decepticon)
Getaway
Joyride
Slapdash

Pretenders:

Metalhawk (Autobot Pretenders leader)
Cloudburst
Clouder
Diver (Masterforce)
Doubleheader
Groundbreaker
Lander
Landmine
Longtooth
Mega Pretenders:
Pincher
Pretender Beasts:

Catilla (sometimes former Decepticon)
Chainclaw

Pretender Vehicles:
Splashdown
Ultra Pretenders:
Waverider

Protectobots:

Defensor:

Hot Spot (Protectobot leader)
Blades
First Aid
Groove
Streetwise

Rook (Generations)

Ricochet (Universe)
Riptide
Roller
Rook (Universe)
Rung
Seaspray
Smokescreen
Swerve
Tailgate
Targetmasters:

Artfire
Blurr
Crosshairs
Double Targetmasters:

Landfill
Quickmix

Boomer
Ricochet (Targetmaster partner)

Scoop

Holepunch
Tracer (Targetmaster partner)

Hot Rod/Rodimus Prime (also had been a Micromaster partnered with Optimus Prime and Wrecker)
Kup (has also been a Wrecker)
Ricochet (Headmasters)
Pointblank
Sureshot (G1)

Throttlebots:

Bumblebee/Goldbug (sometimes leader) (has also been a Pretender, Action Master, and G2 Gobot as Bumblebee)
Rollbar (sometimes leader)
Chase
Freeway
Searchlight
Wideload

Trailbreaker
Turbomasters:

Thudner Clash (Turbomaster leader)
Boss
Flash
Hurricane
Rotorstorm (has also been a Wrecker)
Scorch

Emirate Xaaron
Victorion/Torchbearers:

Pyra Magna (Torchbearer leader)
Dustup
Jumpstream
Rust Dust
Skyburst
Stormclash

Warpath
Windblade
Windcharger
Wreckers:

Bluestreak
Devcon
Inferno (has also been Action Master)
Impactor
Jumpstarters:
Perceptor
Punch (also double agent within the Decepticons as Counterpunch)
Rack'n'Ruin
Roadbuster
Tap-Out
Triple-Changers:

Broadside
Sandstorm
Springer

Ultra Magnus
Whirl
Generation 2
Axelerators:

Rapido (Axelerator leader)
Skram
Turbofire
Windbreaker

Color Changers:
Cyberjets:
Gobots:

Blowout
Double Clutch
Firecracker
Gearhead
Greasepit (G2)
High Beam (has also been a Maximal)
Motormouth

Heroes:
Laser Rods:
Obiliterators:

Pyro (has also been a Wrecker)

Powermasters (G2):
Rotor Force:

Leadfoot (has also been a Wrecker)
Manta Ray
Machine Wars
Beast Wars
Apelinq
Magna Stampede
Stockade
Robots in Disguise (2001)
Omega Prime
Autobot Brothers:
Fortress Maximus
Landfill/Build Team:

Wedge (Build Team leader)
Grimlock
Heavy Load
Hightower

Rail Racer/Team Bullet Train:

Railspike (Team Bullet Train leader)
Midnight Express
Rapid Run

Ruination/Commandos (reprogrammed into Decepticons):

Mega-Octane (Commando leader)
Armorhide
Movor
Ro-Tor
Rollbar

Scourge (reprogrammed into a Decepticon)
Skid-Z
Spychangers:

Hot Shot (Spychanger leader)
Crosswise
Mirage
R.E.V. (Race Exertion Vehicle)
W.A.R.S. (Wicked Attack Recon Sportscar)

Tow-Line
Unicron Trilogy
Armada
Mini-Cons:

Comettor (partnered with Jetfire)
Incinerator (partnered with Blurr)
Jolt (partnered with Hot Shot)
Liftor (partnered with Smokescreen)
Longarm (partnered with Red Alert)
Nightbeat (partnered with Side Swipe)
Perceptor/Street Action Mini-Con Team:

High Wire (Street Action Team leader) (partnered with Rad White)
Grindor (partnered with Carlos Lopez)
Sureshock (partnered with Alexis Thai Dang)

Rollbar (partnered with Scavenger)
Rollout (partnered with Overload)
Rook (partnered with Sideways)
Sparkplug (partnered with Optimus Prime)
Swindle (partnered with Starscream)

Overload
Scavenger (formerly Decepticon)
Smokescreen/Hoist
Energon
Inferno/Roadblock
Omega Supreme
Omnicons:

Arcee (Omnicon leader)
Signal Flare
Skyblast
Strongarm

Superion Maximus/Air Team:

Storm Jet (Air Team leader)
Sky Shadow
Terradive
Treadshot
Windrazor

Team Bulkhead:

Bulkhead (Team Bulkhead leader)
Cliffjumper
Downshift

Team Rodimus (also included Landmine):

Rodimus (Team Rodimus leader)
Prowl
Cybertron
Animatronians:

Scourge (leader of Animatron) (defected from the Decepticons)
Backstop
Brimstone (defected from the Decepticons)
Snarl
Undermine (defected from the Decepticons)

Cybertron Defense Team (also includes Hot Shot & Red Alert):
Earthbound Autobots:

Evac (leader of the Earthbound Autobots)
Crosswise
Lugnutz (defected from the Decepticons)

Gigantions:

Metroplex (leader of Gigantion)
Menasor (defected from the Decepticons)
Quickmix

Mini-Cons:

Drill-Bit (partnered with Metroplex)
Gigation Mini-Con Team (partnered with Vector Prime):
Heavy Load (partnered with Menasor)
Safeguard (partnered with Vector Prime)
Stripmine (partnered with Quickmix)

Mudflap (temporarily joined the Decepticons)
Overhaul/Leobreaker
Velocitronians:

Override (leader of Velocitron)
Brakedown
Clocker
Bayverse
Optimus Prime (leader)
Brains (defected from the Decepticons)
Crosshairs
Dinobots:

Grimlock (Dinobot leader)
Mini-Dinobots:

Mini-Grimlock
Mini-Slug
Mini-Strafe

Scorn
Slug
Strafe

Drift (formerly Deadlock) (defected from the Decepticons)
Hound
Wheelie (defected from the Decepticons)
Wreckers:

Leadfoot
Roadbuster
Topspin
2007 film
Ravenge of the Fallen
Arcee
Chromia
Elita-One
Jetfire (defected from the Decepticons)
Jolt
The Twins:
Dark of the Moon
Mirage/Dino
Que
Sentinel Prime (defected to the Decepticons)
The Last Knight
"Bulldog"
Canopy
Cogman
Daytrader
Hot Rod
Sqweeks
Trench
Animated
Alpha Trion
Cybertron Elite Guard:
Cybertron Intelligence:
Dinobots (unofficial):

Grimlock (Dinobot leader)
Swoop

Ministry of Science:

Mainframe
Perceptor
Wheeljack

Elita-1/Blackarahnia (defected to the Decepticons after her transformation)
Omega Supreme
Snarl (unofficial; kicked out of the Dinobots)
Team Athenia:

Rodimus Prime (Team Athenia leader)
Brawn
Hot Shot
Red Alert

Wasp/Wapsinator (formerly)
Wreck-Gar (unofficial)
Yoketron
Shattered Glass
Alpha Trion
Blaster
Cliffjumper
Drench
Brawn/X-Brawn
Dinobots:
Fortress Maximus
Inferno (transformed into Autotrooper)
Omega Doom
Prowl/Checkpoint
Ratchet (transformed into Autotrooper)
Seekers:
Side Burn (undercover agent for the Underbase)
Sideswipe (defected to the Decepticons)
Star Saber
TransTech
Optimus Prime (leader)
Albitron
Andromeda
Blackarachnia
Brainstorm
Cheetor
Depth Charge
Heinrad
Nightscream
Perceptor
Prowl
Rattrap
Rhinox
Rook
Silverbolt
Stungun
Vetcor Prime
Aligned
War for Cybertron/Fall of Cybertron
Air Raid
Ironhide
Jetfire
Lightning Strike Coalition Force/Dinobots (Grimlock was their leader):
Perceptor
Silverbolt
Warpath
Prime
Knock Out (defected from the Decepticons)
Primes:
Smokescreen
Wreckers (includes Bulkhead):

Ultra Magnus (Wrecker leader)
Impactor
Pyro
Roadbuster
Rotorstorm
Seaspray
Wheeljack
Rescue Bots
High Tide
Mini-Cons:

Servo (partnered with High Tide)

Quickshadow
Rescue Force Sigma-17:

Heatwave (Rescue Force Sigma-17 leader)
Blades
Boulder
Chase

Salvage
Robots in Disguise (2015)
Blastwave
Drift (formerly Deadlock) (defected to the Decepticons)
Minicons:

Deployers:

Jetstorm (partnered with Drift)
Slipstream (partnered with Drift)
Undertone (partnered with Ratchet)

Dropforge
Fixit
Toolbox
Weaponizers:

Aerobolt (Weaponizer leader)
Bashbreaker
Buzzstrike
Lancelon
Sawtooth
Tricerashot

Nightra (rogue)
Primes:
Strongarm
Windblade
Ad blocker interference detected!
Wikia is a free-to-use site that makes money from advertising. We have a modified experience for viewers using ad blockers

Wikia is not accessible if you've made further modifications. Remove the custom ad blocker rule(s) and the page will load as expected.