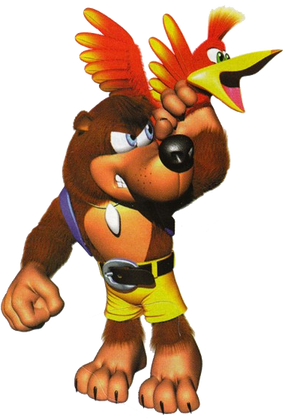 Banjo and Kazooie are the main characters from the same title video game series.
Fanon Wiki Ideas So Far
Battles Royale
With the Xbox-verse
Banjo only
Kazooie only
Battle Record
WARNING: The following tab will reveal the numbers of wins and losses for the following character. Read at your own risk.
Battle Record
Wins: 2
Losses: 5
Draws: 1<by>One Death Battle has two opposite alternate endings, showing no clear winner.
Possible Opponents
History
Death Battle Info
Background (Banjo)
Age: Unknown, possibly twenties
Height: 5 feet
Weight: Unknown
Species: Honey Bear
Occupation: Adventurer, Regular savior of the Isle o' Hags
Background (Kazooie)
Age: Unknown, same as Banjo most likely
Height: 3 feet
Weight: Unknown
Species: Red-Crested Breegull
Occupation: Weapon, Shield, Means of Flight, Banjo's Partner in Crime
Individual Abilities
Banjo
Good climber
Excellent swimmer
Higher stamina than Kazooie
Capable of swiping with claws (Claw Swipe) and rolling forward (Forward Roll)
Pack Whack

Slams backpack down like hammer or swings it in a wide circle (latter option can slow his fall)

Taxi Pack

Stashes items in its hammerspace content (special objects allow him to float)

Shack Pack

Banjo slips inside of his backpack to fit into small spaces and survive hazardous environments

Sack Pack

Banjo uses his backpack as a sac-race sack to traverse dangerous grounds and liquid pools

Snooze Pack

Uses backpack as makeshift sleeping back and naps to regain health
Kazooie
Fast runner
Can walk up steep slopes that Banjo can't
Flaps wings to slow falls
Leg Spring

Backflip that allows Kazooie to jump higher

Glide
Hatch

Kazooie can hatch or warm any object she sits on (not particularly useful here)

Wing Whack

Can karate chop with wings or spin like a top with wings outstretched
Team
Beak Barge

Forward-going thrust using Kazooie's beak as a lance
Can smash solid stone

Breegull Bash

Banjo uses Kazooie as a club
Not too different from standard attacks
Still pretty funny

Beak Buster

Downward-slam using Kazooie's beak as a stake
Can break solid steel plating

Bill Drill

Upgraded version of Beak Buster
Can drill through large boulders
Makes for a good screwdriver, too

Talon Trot

Kazooie carries Banjo around to help him scale steep slopes
Moves faster than walking

Flap Flip

Backflip that goes higher than a standard jump

Rat-a-tap Rap

Three-hit midair peck
Good mid-jump attack

Wonderwing

Creates glittering gold aura
Completely invulnerable
Destroys any enemy unfortunate enough to touch them
Fueled by Golden Feathers at a rate of 1 feather per second (carries up to 20)
Can be activated and deactivated at will

Talon Torpedo**

Undewater move
Launches Kazooie like a torpedo
Goes fast, but lacks traction

Flight:

Kazooie is required
Fueled by red feathers
Gaining altitude or Beak Bomb depletes them
Can carry up to 100 Red Feathers

Beak Bomb

Midair move
Flies straight forward to bomb whatever is in front of them

Egg Shooting

Can shoot fron the ground, in midair, or underwater
Honed further by Egg Aiming, which is borderline snipe-scoping

Breegull Blaster

Banjo uses Kazooie as an assault rifle
Beak Bayonet is a good melee weapon
Eggs
Normal

Single shot
Max. Ammo: 100

Rapid

Rapid-Fire
Limitless ammo
Limited time of use: 20 seconds

Fire

Ignites target on impact
Max. Ammo: 50

Grenade

Explode on impact
Max. Ammo: 25

Ice

Crystal blue
Freeze enemies and put out fire
Max. Ammo: 50

Proximity

Sets up explosive motion-sensing land mines
Max. Ammo: 10

Clockwork Kazooie

Sends out remote-controlled windup breegull
Banjo and Kazooie cannot move while this is in use
Can self-destruct if time runs out (20 secs) or if manually activated
Transformations
Banjo
Termite

Can climb up the steep hills
Can sink to the bottom of a body of water and does not require oxygen to breathe
Fall from very high places without receiving any damage
Walking on thorns

Crocodile

Can walk safely in Piranha Water
Can do an powerful bite to attack enemies

Walrus

Walking in cold water unharmed
Riding small sleds
Befriending other walruses

Pumpkin

Squeezing through small holes
Walking on thorns

Bee
Washer

Can wash overalls
Can fire underwear (WTF?)

Stony

Can understand the language of the Stonies
Can shoulder-charge to attack enemies

Detonator

Detonates TNT barrels
Capable of blasting boulders
Can float in water unlike most transformations

Van

Invulnerable
Can pay for rides in Witchyworld that require money
It's horn can open doors with van pictures on them
Can kill enemies by ramming into them

Submarine

Can swim faster underwater
Infinite air
Dive deeper than normal Banjo
Can fire torpedoes
Can unleash a Sonar Ping attack against closer enemies

Daddy T-Rex

Can roar to attack enemies
Invincibility

Snowball

Heal and grow larger by rolling in snow
Can use a powerful rolling attack to run over enemies

Mouse

Can chew through ropes and chains
Can fit into small doors

Candle

Can light up dark areas
Can set fire to wicks and fuses

Octopus

Can swim in harmful water
Can shoot small spurts of water

Tank

Immune to acid
Can fire missiles which kill enemies and open special tank-only doors
Cannot jump
Kazooie
Dragon Kazooie

Infinite Fire Eggs
Fire breath
Can be achieved by giving Humba Wumba the Mega Glowbo which is obtainable only by unlocking the Ice Safe with the Ice Key
Special Items
Shock Spring Pad

Allows for Shock Spring Jump
Jumps higher than any default jump they might have

Flight Pad
Ice Key

Can be used to open the Ice Safe

Magic Wrench

Can be used to attack enemies
Can propel Banjo forward in the air
Can levitate objects
Can create vehicles
Shoes
Wading Boots

Allow them to cross hazardous surfaces

Turbo Trainers

Increases running speed to the point that they can walk on water

Springy Step Shoes

Allows for a super jump, even more powerful than the Shock Spring

Claw Clamber Boots

Allows to walk up sheer surfaces
Honeycombs
Restores health
Skill Honeycomb

If timed right, can restore all health instantly

Luck Honeycomb

Sets health at a specific level at complete random (low, high, medium, etc.)
Feats
Defeated Gruntilda the Witch 4 separate times
Rescued the Jinjos repeatedly
Clever problem solvers, treasure hunters, and adventurers
Defeats hordes of monsters ranging from common thugs to living toxic gas clouds
Superb triathletes
Extraordinarily lucky, able to find just the items they need someplace nearby
Fought all kinds of giant, somewhat-terrifying monsters
Survived being stepped on by dinosaurs, hydraulic presses, laser blasts, and point-blank explosions

And that's just to name a few

Traveled through time to save their ancestors
Made many cars, planes, and boats during the events of Nuts n' Bolts
Weaknesses
Work better as a team
Slower, cannot fly or access eggs and shoes (Banjo)
Less stamina, can't grab or climb, can't swim underwater (Kazooie)
Some items better suited for exploration than battle
Banjo-Kazooie: Nuts and Bolts

Took away all their moves and abilities for a LEGO car game and regularly took potshots at the old games
Screw you, Microsoft. You killed Rareware! SCREW YOU!
Gallery