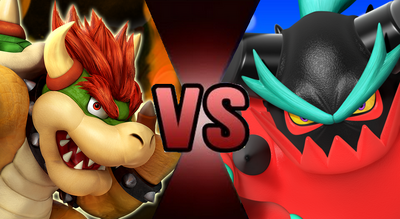 Bowser VS Zavok is a What-If? Death Battle originally written by Maxevil and TendoTheGamer that was adopted by Vrokorta. It pits Bowser from the Super Mario series, against Zavok from the Sonic the Hedgehog series.
Description
Mario vs Sonic! Two large, powerful, fiery leaders will battle each other to see who's the better.
Interlude
Bowser
Zavok
Intermission
Who do you think will win?
Death Battle
Results
Other Fights
Previous: Lopmon vs Lopunny (Incomplete)
Next: Sceptile VS Guilmon (Incomplete)
Trivia
Vrokorta's rooting for Bowser.
This is the 5th fight Vrokorta's adopted.
Ad blocker interference detected!
Wikia is a free-to-use site that makes money from advertising. We have a modified experience for viewers using ad blockers

Wikia is not accessible if you've made further modifications. Remove the custom ad blocker rule(s) and the page will load as expected.