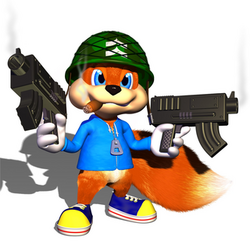 | | | |
| --- | --- | --- |
| " | Well, here I am! Conker the King... king of all the land! Who'd a thought that? | " |
| | ~ Conker | |
Conker T. Squirrel is the main protagonist of the Conker series of video games.
Fanon Wiki Ideas So Far
With the Xbox-verse
Battle Record
WARNING: The following tab will reveal the numbers of wins and losses for the following character. Read at your own risk.
Battle Record
Wins: 0
Losses: 3
Draws: 0
History
Death Battle Info
Background
Name: Conker
Species: Squirrel (1/128 vampire)
Height: Unknown
Weight: Unknown
Physicality
Strength
Hit a giant stone gargoyle with his frying pan with enough force to make him visibly flinch

Though the gargoyle did laugh at him immediately afterwards

Is able to lift and carry sentient, struggling objects roughly his size without much effort
Managed to press a comically oversized button on a giant robot with one punch
Durability
Can survive being stung by giant wasps with sharp stingers
Can survive falls from great heights as long as he lands in water
Speed
Powers and Abilities
Jumping Ability
Can jump about twice his height
Funny Helicopter Tail Thing
Conker can use his tail to hover for a brief period of time, allowing him to cross small gaps
Cannot gain any additional height and it only lasts a few seconds
Hammerspace
Accessed via context-sensitive pads or lightbulb icons
Allows Conker to pull out certain items to use in certain situations
Anvil Transformation
Conker can transform into an anvil and slam down onto the opponent
Weapons
Frying Pan

Conker's most basic weapon
He simply swings it to attack
The force of his swing can cause most NPCs to visibly flinch in pain
The swings can knock sentient objects roughly Conker's size, such as keys, cheese and sweet corn, unconscious

TNT and Plunger

Used to blow up a boulder

Slingshot

Launches projectiles at the opponent
Capable of reducing giant dung beetles to giblets

Flamethrower
Throwing Knives

Conker tosses throwing knives with fairly impressive accuracy
Used to cut the noose holding up Franky the Pitchfork and electrical wires hanging from the ceiling

Bricks

Two bricks that Conker slams together
He can slam them with enough force to cause visible agony to the Big Big Guy's literal balls of brass

Pocket Watch

Can hypnotize his enemies in order to tame them and get them on his side
Used to tame a rampaging T-Rex

Shotgun
Crossbow
Submachine Guns
Rocket Launcher
Mech Suit

a large yellow mech suit with claw hands
Used primarily for close-range combat
Capable of lifting up a giant Xenomorph by the tail and spinning it Bowser style

Katana

a simple katana
Used to decapitate the still-at-full-strength Xenomorph
Fourth Wall Awareness
Can be used to his advantage
Should the game lock up, he can communicate with the developers and convince them to grant his wishes
Feats
Assisted a bee in retrieving her hive
Managed to ride a rampaging bull without falling off
Defeated a giant boiler
Defeated a giant hay robot
Flushed the Great Mighty Poo
Tamed a T-Rex and used it to defeat Buga the Knut
Killed a vampire and survived a horde of zombies
Fought in a war
Destroyed a giant teddi-shaped tank
Assisted in a bank heist
Killed a Xenomorph
Became a king
Weaknesses
Not much of a close-range fighter
Rather unskilled and clumsy
VERY much human durability wise; anything that would kill a normal human being WILL kill him
Rather unlucky, as he finds himself in bad situations completely unwittingly
His fourth wall breaking powers require immense amounts of luck to actually come into play
The above powers will only work within the realm of video games, as they require the game he's in to lock up
On top of the above points, his awareness also requires the developers to be present
Gallery
Trivia
Ad blocker interference detected!
Wikia is a free-to-use site that makes money from advertising. We have a modified experience for viewers using ad blockers

Wikia is not accessible if you've made further modifications. Remove the custom ad blocker rule(s) and the page will load as expected.