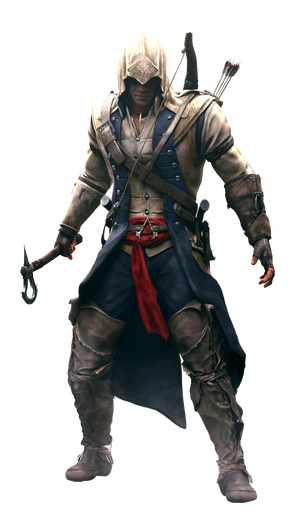 | | | |
| --- | --- | --- |
| " | In the name of liberty, I will fight the enemy regardless of their allegiance. While men of courage write history of this day, the future of our land depends on those who are truly free. | " |
| | ~ Connor Kenway | |
Connor is a character from the video game series, Assassin's Creed.
Fanon Wiki Ideas So Far
Battles Royale
Battle Record
WARNING: The following tab will reveal the numbers of wins and losses for the following character. Read at your own risk.
Battle Record
Wins: 1
Losses: 2
Draws: 0
History
Death Battle Info
Background
Real name: Ratonhnhaké:ton
Born: April 4, 1756
Died: unknown
Son of Haytham Kenway
Grandson of Edward Kenway
Actually never adopted his father's surname
Final ancestor accessed by Desmond Miles
Close Range Arsenal
Tomahawk
Dagger
Twin Hidden Blades
French Cutlass
French Boarding Axe
Gunstock War Club
Long Range Arsenal
Bow and arrow
Throwing knives

Coated in highly toxic water hemlock poison

Pistols

Flintlock
Double-barrel
Duckfoot
Pitcairn-Putnam (pair)
Misc. Arsenal
Rope darts
Smoke bombs
Trip mines
Shard of Eden

Ring-like Piece of Eden
Protects from stray metallic projectiles
Formerly used by William Kidd
Eagle Vison
Sixth sense
Can sense the emotions and intentions of those around him
Used to distinguish friend from foe
Able to find key targets, objects, and hiding spots
Alternate Reality abilities
Wolf Cloak
Wolf Pack
Eagle Flight

Transforms into bird and flies at incredible speed

Bear Might
Feats
Became an assassin at the age of 13
Defeated a group of bandits before his Assassin training
Quickly mastered sailing and commanding a ship
Turned the tide of battle against the British on multiple occasions
Helped rebuild a wiped out colonial Assassins Order
Defeated Haytham
Survived an alternate timeline created by an Apple of Eden
Faults
Sometimes lets his emotions get the best of him
Somewhat naïve
Lacks armor
Alternate Reality abilities drain him with overuse
Ad blocker interference detected!
Wikia is a free-to-use site that makes money from advertising. We have a modified experience for viewers using ad blockers

Wikia is not accessible if you've made further modifications. Remove the custom ad blocker rule(s) and the page will load as expected.