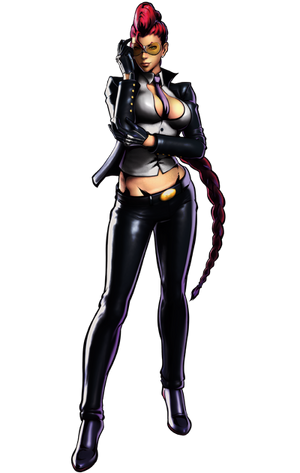 | | | |
| --- | --- | --- |
| " | Don't underestimate women. We're more capable than you think! | " |
| | ~ Crimson Viper, Street Fighter IV | |
Crimson Viper is a character from the video game series, Street Fighter.
Fanon Wiki Ideas So Far
Completed Death Battles
Possible Oppnents
History
Death Battle Info
Background
Real Name: Maya
Age: 30
Birthday: July 18
Height: 175 cm / 5'9"
Weight: 56 kg / 123 Ibs
CIA Agent infiltrating S.I.N.
Dislikes: Working overtime, people interfering with missions
Hobbies: Magic tricks
Single mother of Lauren
Battle Suit
Created by S.I.N.
Metal Knuckles

Create electricity and earthquake-like shockwaves

Jet Boots

Create fire
Allow for greater mobility and agility
Capable of flight
No known maximum flight time

Can deactivate Limiter to suit her situation
Moveset
Thunder Knuckle/Thunder Fist

Moves forward with an electrical fist

Burning Kick
Seismic Hammer

Shockwave that explodes from the ground

Burst Heel
Super Moves
Emergency Combination

Double Thunder Knuckle followed by Burst Heel

Burst Time

Knocks opponent into the air, then four fiery somersault kicks

Burning Dance

Kicks and grinds opponent against ground, then electrocution

Viper Full Throttle

Grabs foe, throws into the air, electrocutes, then drives into ground with jet boots
Feats
Can hold her own against Chun-Li, the strongest woman in the world
Enhanced blows are unblockable even to the likes of Ryu
Successfully infiltrated and deceived S.I.N.
Avoided a blast from M. Bison
Avoided multiple Aegis Reflectors from Urien
Faults
Struggles against Satsui no Hado users
Gauntlets incapable of harming Power of Nothingness users
Ad blocker interference detected!
Wikia is a free-to-use site that makes money from advertising. We have a modified experience for viewers using ad blockers

Wikia is not accessible if you've made further modifications. Remove the custom ad blocker rule(s) and the page will load as expected.