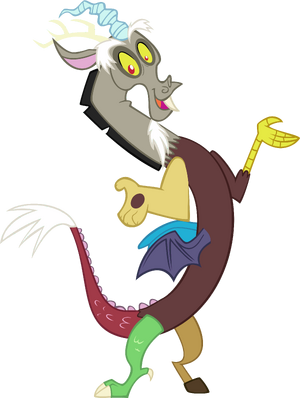 | | | |
| --- | --- | --- |
| " | Now if you'll excuse me, I have some chaos to wreak. | " |
| | ~ Discord | |
Discord is a character from the animated television series, My Little Pony: Friendship Is Magic.
Fanon Wiki Ideas So Far
Battles Royale
Battle Record
WARNING: The following tab will reveal the numbers of wins and losses for the following character. Read at your own risk.
Battle Record
Wins: 2
Losses: 1
Draws: 0
​Possible Opponents
History
Death Battle Info
Background
Height: Possibly several feet tall
Weight: Unknown
Species: Draconequus
Age: Thousands of years
Was the predecessor of Princess Celestia as ruler of Equestria
Is ironically the Spirit of Chaos and Disharmony, despite his redemption
Abilities and Weaponry
Reality Warping 
Size-Shifting 
Shape-Shifting 
Probability Alteration 
Telekinesis 
Hypnosis 
Telepathy/possible Omniscience 
Fourth Wall Awareness 
Teleportation 
Object Creation 
Life Creation 
Creation
Levitation 
Flight 
Replication 
Animation
Appendage Generation 
Anatomical Liberation 
Object Possession 
Transmogrification
Matter Ingestion 
Portal Creation 
Disease Generation
Blue Flame Generation 
Color Alteration 
Thought Projection 
Reflective Teleportation 
Enhanced Strength

Can take trees out of the ground

Enhanced Hearing

Can hear from far, far distances

Physics Manipulation 
Weather Manipulation 
Animal Manipulation 
Ladyrinth Manipulation
Fruit Manipulation 
Daytime Manipulation 
Gravity Manipulation 
Paradox Manipulation 
Logic Manipulation 
Nature Manipulation 
Eagle Claw

Can cut through dimensions

Prehensile Tail 
Cartoon Physics 
Magic Imbalance Detection
Immortality

Is presumably just as old, if not older, than Celestia and Luna

Trickster
Old Prime
Feats
Rivals Lord Tirek in power
Turned Ponyville into the Chaos Capital of the World
Ruled Equestria for an unprecedented period of time before being defeated by the Princesses
Corrupted the Mane Six, excluding Twilight Sparkle, who would have left Ponyville (Which would have been left in chaos forever) had she not re-discovered the importance of friendship
Weaknesses
Is vulnerable to other magical characters or attacks

Has been turned to stone twice by the Elements of Harmony
Had his powers drained by Lord Tirek

Tends to be very overconfident
Trivia
Ad blocker interference detected!
Wikia is a free-to-use site that makes money from advertising. We have a modified experience for viewers using ad blockers

Wikia is not accessible if you've made further modifications. Remove the custom ad blocker rule(s) and the page will load as expected.