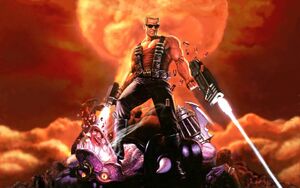 | | | |
| --- | --- | --- |
| " | Mess with the best, die like the rest. | " |
| | ~ Duke Nukem, from Duke Nukem: Land of the Babes | |
Duke Nukem is the main protagonist of the same title video game series.
Fanon Wiki Ideas So Far
Completed Fights
Possible Opponents
History
Death Battle Info
Background
Alias: The King of the World, The Ultimate Alien Ass-Kicker, The Duke
Age: 45
Height: 6'4"
Weight: 240 lbs
Occupation: Superstar, Natural Badass, Hero of Earth, Alien-Ass Kicker, Former U.S. Army soldier, Former C.I.A. operative, Occassional Businessman
Physicality
Strength

Can bench 600 lbs
Able to rip a cyborg's head off with ease
Can rip heads off enemies easily

Speed

Run faster than a rocket
Jump on top of buildings

Durability

Near unkillable
Shrugs off explosions, bullets, and laser fire
Can trek through the Moon without any problem (still needed oxygen)
Survived blows from aliens and cyborgs, explosions, gunfire, laserfire, etc.
Weapons
Mighty Boot

Can crush alien and robot bones
Kicks hard enough to decapitate foes

Golden Colt M911

Contains 8 rounds
Laser scope attachment

Pistol

Rapid fire
Contains 24 rounds

SPAS-12 Shotgun

Very long range
Pump action
Has 8 shells
Damaging up close. but weak at longer ranges

Ripper Cannon
Pipe Bomb
Laser Tripbomb

Highly visible lasers
HUGE explosion

Enforcer Gun

Taken from Alien Enforcers
Fires mini-rockets that home in on foes
Good for close range, but weakens at larger ranges
15 rounds
Heavy Weapons
RPG
Shrinker

Melee range
Can shrink weak enemies
Lasts only for a bit
Foes can be squashed like an ant

Microwave Expander

Expands foes' body until they burst

Devastator

A dual wielded rocket launcher
Fires like a machine gun

Freezethrower

Freezes enemies in a block of ice
Can be shattered into a bloody mess with a kick
Items and Gear
Dukevision

Duke's signature glasses
Ripped directly from They Live
Night vision

Jetpack

Enough fuel for two minutes

Holoduke

Creates a holograph of Duke to distract foes
Speakes in Schwarzanegger-esque voice and mixes up one-liners
Feats
Bested the Alien Queen
Served in the Lebanese Civil War
Killed the Cycloid Emperor
Wrote a Book About Himself
Defeated an army of clones
Killed the evil Doctor Proton
Continuously kicks the asses of alien invaders
Destroyed the entire Cycloid invasion force on the Moon
Went back in time and annihilated the forces of the Nazis and aliens
Constantly scores many hot babes
Doesn't need "Power Armor" (Mark IV) in battle ("Power Armor is for pussies")
Weaknesses
Overconfident

His health is literally his ego

Capturing a babe sets him into uncontrollable rage
No Means of Armor
VERY cocky, smug, and overconfident
Not totally invincible as he thinks
Ad blocker interference detected!
Wikia is a free-to-use site that makes money from advertising. We have a modified experience for viewers using ad blockers

Wikia is not accessible if you've made further modifications. Remove the custom ad blocker rule(s) and the page will load as expected.