Gamera vs. Ultraman is a What-If? episode of Death Battle.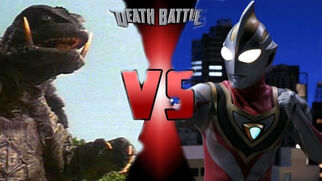 Description
Two of Godzilla's greatest alien rivals who loves interacting with mankind and wants to keep the world safe clash today! Will Gamera incinerate Ultraman Gaia or will Ultraman Gaia's weapons be too much for The Guardian of the Universe.
Interlude
Gamera
Ultraman Gaia
DEATH BATTLE!
Results
Advantage and Disadvantage
Next time on death battle
poll
who do you think would win?
Ad blocker interference detected!
Wikia is a free-to-use site that makes money from advertising. We have a modified experience for viewers using ad blockers

Wikia is not accessible if you've made further modifications. Remove the custom ad blocker rule(s) and the page will load as expected.