Godzilla vs. Gipsy Danger is a What-If? episode of Death Battle.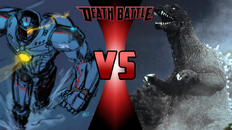 In This Showdown, We Will Use Godzilla 2014 (As Any Other Will Wreck Gispy Ovs Not 1998) And Gispy Danger From Pacific Rim 2013.
Legendary Godzilla
Godzilla Is A 355 Foot Tall Kaiju, And 500 Foot Long (With Tail Fully Stretched Out). The Monster Ways 90,000 Tons, And Is Extremely Powerful. He Can Fire Atomic Breathe (A Sort Of Atomic Laser).We Do Not Know The Full Extent Of The Breathe, As He Only Used On Creatures That Could Of Easily Evolved To Be Very Resistible. He Is Semi Or Even Fully Aquatic, And Can Level Mega Cities. He Is Not Invincable, As He Was Nearly Killed By Other Kaiju's.
Gipsy Danger
Gispy Is A 260 Foot, Giant Robot. She (Refers As She Same Way Titanic Is) Weighs 2,000 Tons, And As Multiply Weapons Such As : Laser Cannons, Which Arn't Too Strong, But Can Do Damge, A Sword Which Can Cut Through Most Kaiju, And Can Also Be A Whip, Weaker Laser Cannons And Guns.
Death Battle
Results
Ad blocker interference detected!
Wikia is a free-to-use site that makes money from advertising. We have a modified experience for viewers using ad blockers

Wikia is not accessible if you've made further modifications. Remove the custom ad blocker rule(s) and the page will load as expected.