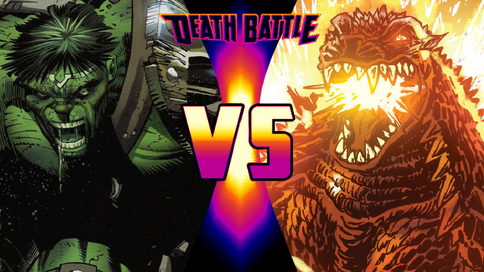 Description
Two rage-filled giants duel one of the gods! Which monster will be crushed today?
Note: For the purpose of balance, this battle will include the Dark Horse, Rulers of Earth, Godzilla in Hell, 2000, Godzilla vs. Megaguirus, Pachinko, Final Wars, 2002 and 2003 versions of Godzilla.
Interlude
Godzilla
Hulk
Pre-Death Battle
Death Battle
Conclusion
Advantages & Disadvantages
Who do you think will win?
Ad blocker interference detected!
Wikia is a free-to-use site that makes money from advertising. We have a modified experience for viewers using ad blockers

Wikia is not accessible if you've made further modifications. Remove the custom ad blocker rule(s) and the page will load as expected.