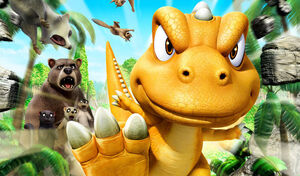 Gon is the main protagonist of the Gon media franchise.
Fanon Wiki Ideas So Far
Battle Record
WARNING: The following tab will reveal the numbers of wins and losses for the following character. Read at your own risk.
Battle Record
Wins: 2
Losses: 0
Draws: 0
Possible Opponents
History
Gon is a small dinosaur who somehow survived the meteor that killed the dinosaurs in the Cretaceous. Now, he goes on many adventures in the world of Paleolithic animals.
Death Battle Info
Short tempered
Extremely durable for his size
Extremely strong for his size
Small
Big eater
Weaponized flatulence
Feats
Can apparently become so angry he, literally, smashes Earth apart
Can eat an entire bush of berries in under a second
Ran around the earth in less than a second