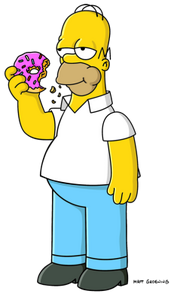 Homer Simpson is the father of the Simpson family from The Simpsons.
| | | |
| --- | --- | --- |
| " | Doh! | " |
| | ~ Homer's Famous Catchphase | |
| | | |
| --- | --- | --- |
| " | Woo-Hoo! | " |
| | ~ Homer's Trademark Shout | |
Fanon Wiki ideas so far
Completed Death Battles:
Possible Opponents
Death Battle Info
Age: Somewhere between 40 and 50
Aliases: Pie Man, Radioactive Homer, 3D Homer, Gold Giant Homer, Lego Homer, Grim Reaper Homer, King Homer, Homerzilla, Blob Homer, Donut Homer
Occupation: Safety inspector at the Springfield Nuclear Plant
Catchphases: Doh! Woo-hoo! Why you little!
Abilities and Weapons
Hand guns
Good at hand to hand combat
Knives
Shotguns
Machine Guns
Crossbows
Shotgun loaded with makeup (Literally)
Hammer
Chainsaw
Axe
Baseball Bat
Miniature Nukes
Bombs
Magic Hammock
Monkey's Paw
Inanimate Carbon Rod
Toaster Time Machine
Awards
Pink Sedan
The Homer
Feats
Is one of the most recognizable cartoon characters in history
Has saved his hometown of Springfield more than once
Fought Peter Griffin from Family Guy to a standstill
Has been to various places around the world, Heaven, outer space, and even Hell itself
Defeated Mario in a rather brief battle
Won a Grammy and an Academy Award
Was once Mark Hamill's bodyguard
Helped fight off a zombie invasion brought upon by Bart Simpson
Once killed Death itself and became a Grim Reaper for a short time
During his stay in Hell, ate all the donuts in the world without any discomfort [1]
In Lego Dimensions, teamed up with the likes of Batman, Gandalf, the Ghostbusters, and numerous others to save the Lego multiverse
Reclamed his family's sailboat painting from Robot Chicken Nerd
Can crush a soda can with his belly fat [2]
Weaknesses
Despite his durability, can still feel pain and be subject to mortal injury
Intelligence seems to be random and inconsistent
The same could be said about his strength
Is kind of an idiot for the most part
Is pretty lazy
Sometimes has a short temper
Can easily be scared and frightened at times
Excessive self-indulgence
Forms such as Homerzilla and King Homer are virtually unattainable
In his own words, "No beer and TV make Homer go crazy"
Trivia
Ad blocker interference detected!
Wikia is a free-to-use site that makes money from advertising. We have a modified experience for viewers using ad blockers

Wikia is not accessible if you've made further modifications. Remove the custom ad blocker rule(s) and the page will load as expected.