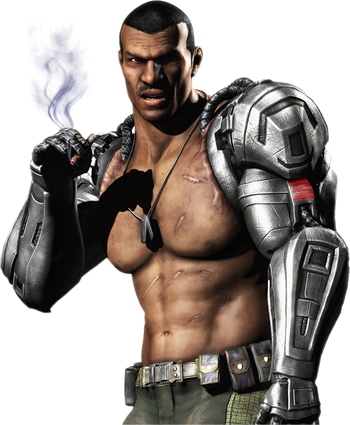 | | | |
| --- | --- | --- |
| " | Bring it! | " |
| | ~ Jackson Briggs | |
Jackson Briggs (A.K.A Jax Briggs for short) is a character from NetherRealm Studios' Mortal Kombat series.
Fanon Wiki Ideas So Far
Possible Opponents
History
Death Battle Info
Jax possesses a lifetime of military experience and discipline, utilizing rutheless brutality and focus in combat. He also has a tremendous degree of physical strength, such that he is one of the Earth's strongest humans even without the aid of his signature metal arms.
Can shoot energy waves
Can shake the Earth with one punch
Skilled grappler
Not afraid to use missiles, flashbangs and machine guns in melee combat
Can turn into a giant
Can grapple and smash a foe so hard that their limbs are stripped to the bone.
Feats
One of The Strongest Human/Earthrealmers in Mortal Kombat History.
Defeated The Original Black Dragon clan members (Tremor, No Face, Tasia, Jarek and Kano)
Disfigured Kano's face so badly that he needed a metal plate replacement.
Killed Hsu Hao, a Red Dragon clan member.
Defeated Motaro and a giant Outworld Beast in the MK Annilation Movie.
Defeated Baraka, Sheeva, Jade, and Johnny Cage in MK9
Defeated Revenant Kitana, Revanant Kung Lao, Revanant Sindel and Revanant Liu Kang.
Knocked out Quan Chi with a single uppercut.
Defeated a group of ninjas with a lamp instead of his arms (Animated Series)
Gallery
Trivia
In Episode 3 of Death Battle Cast, Jax was the subject of the episode's community battle. Specifically, fans were asked to discuss who would win in an arm-wrestling match between Jax and Nathan Spencer of Bionic Commando.