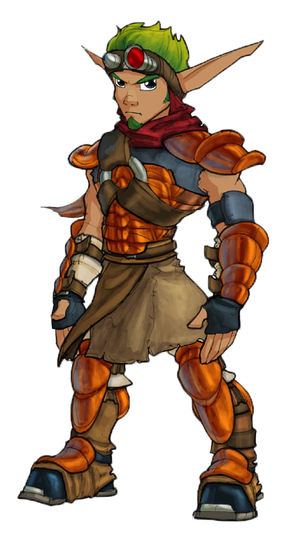 Jak
is the main character of the
Jak
series. He and
Daxter
previously fought
Ratchet
and
Clank
in the 60th episode of Death Battle,
Ratchet & Clank VS Jak & Daxter
.
Fanon Wiki Ideas So Far
Battle Royale
With Daxter
With PlayStation-verse
With PlayStation All-Stars-verse
Completed Fight
History
Death Battle Info
Background Jak
Real name: Mar
Age: 19
Height: 5'10"/177.5 cm
Weight: 185 lbs/83.9 kg
Left-handed
Spoke his first words at age 17
Can catch 200 lbs of fish out of one in about 60 seconds
Age: 19
Height (Ottsel): 2'10"/86 cm
Weight (Ottsel): 48 lbs/21.7 kg
Once worked as an exterminator
Owns a bar called the Naughty Ottsel
A surprisingly good hacker
Thing he wants the most: a pair of comfy shorts
Eco Powers
Light Eco

Flash Freeze, gliding, health regeneration, shield
Feats
Dodged a gunshot from Sig
Won gladiator duels in a lava arena
Took first place in the Kras City Grand Championship while poisoned
Obliterated a Precursor robot with a blast of light eco
In Dark form, can survive being buried under rubble
Blew up a planet-destroying terraformer by themselves and survived the explosion
Gallery
Ad blocker interference detected!
Wikia is a free-to-use site that makes money from advertising. We have a modified experience for viewers using ad blockers

Wikia is not accessible if you've made further modifications. Remove the custom ad blocker rule(s) and the page will load as expected.