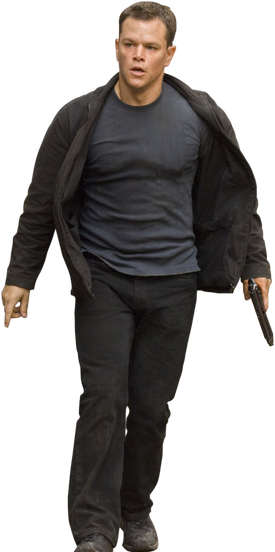 | | | |
| --- | --- | --- |
| " | Look at us. Look at what they make you give. | " |
| | ~ Jason Bourne to Paz | |
Jason Bourne is the main character of the Bourne series of books and movies.
Fanon Wiki Ideas So Far
Battle Record
WARNING: The following tab will reveal the numbers of wins and losses for the following character. Read at your own risk.
Battle Record
Wins: 1
Losses: 1
Draws: 0
History
Death Battle Info
Background
Name: David Webb
Age: Mid to late 40s
Occupation: Rouge Agent, former member of Operation: Treadstone, Green Berets, and Captain of the Delta Force
Blood Type: A+
Alias: Is under many names as an Operative, but he famously goes by Jason Bourne
Is Catholic
Weapons
Beretta 92SB
Beretta 92FS
SIG-Sauer P225
SIG-Sauer P226R
SIG Pro SP2022
Walther P5 Compact
Taurus PT945
Glock 19
12 Gauge Double Barreled Shotgun
Keppeler & Fritz KS II
Brügger & Thomet GL-06
Abilities
Adept in hand-to-hand combat
Extensive knowledge in the use and functionality of any firearm
Master Improviser
A master of using any object in the immediate environment as a weapon
Skilled marksmen
Fluent in French, Dutch, Russian, German, Spanish, Czech, Polish, Italian, and Mandarin
Has near superhuman strength and agility
Feats
Can disassemble a handgun in seconds
Can throw punches up to 100 miles per hour
Despite suffering amnesia, it does little to hamper his skills as an assassin
Has effortlessly infiltrated the CIA itself
Was trained to compete with the legendary assassin Carlos the Jackal
Strangled an assassin to death with a hand towel
Always one step ahead of his opponents
Has regularly snuck up on people, even trained operatives Batman style
Always comes out on top in every single fight he has been in
Evaded Agencies world wide for years
Was Treadstone's top operative before he became rouge
Regularly survived situations that would kill a normal human
Faults
Is still only human
His skills aren't enough to save those close to him
Has guilt over the actions he has done as an operative of Treadstone
Lacks any armor
Ad blocker interference detected!
Wikia is a free-to-use site that makes money from advertising. We have a modified experience for viewers using ad blockers

Wikia is not accessible if you've made further modifications. Remove the custom ad blocker rule(s) and the page will load as expected.