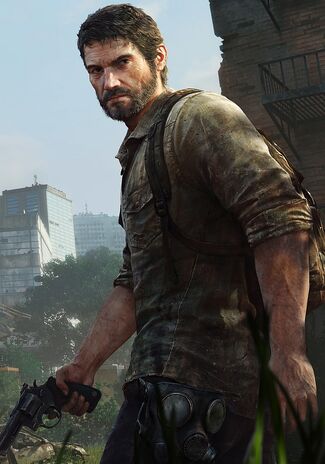 Joel
is the main playable character from the video game,
Last of Us
.
Fandom Wiki Ideas So Far
History
Joel is a survivor in post-apocalyptic America that has been ravaged by the cordyceps brian infection, which has decimated 60% of mankind globally. After losing his daughter Sarah in the outbreak, Joel becomes a ruthless and cynical smuggler eventually tasked with smuggling and protecting Ellie, a young girl who is the key to mankind's survival. Joel eventually comes to form a strong bond with her.
Death Battle Info
Background 
Name: Joel miller 
Age: 56
Gender: Male 
Height: 6'8"
Dislikes: bringing up the past
Abilities 
Peak human conditon 
Weapon mastery 
Accute hearing 
stealth expert 
Weapons 
9mm pistol, 
Revolver 
Shotgun
Hunting rifle 
Shorty (sawed of shotgun)
El diablo (Magnun with scope)
Flmaethrower 
assault rifle 
Military sniper rifle 
Bow and arrows 
Crafted weapons and tools 
Molotov cocktails 
Nail bombs 
Smoke bombs 
Gas mask 
Shivs 
Hatchet, Machete, pipe, board, baseball bat
Medi kits 
Flashlight 
Feats 
Survived for 20 years in a zombie apocalypse 
defeated hundreds of bandits, thugs and infected 
Strong enough to smash a clickers head with his fist
Survived being impaled through the chest by a peice of rebarb
can sense people through walls with hearing 
can craft tools and weapons even in combat