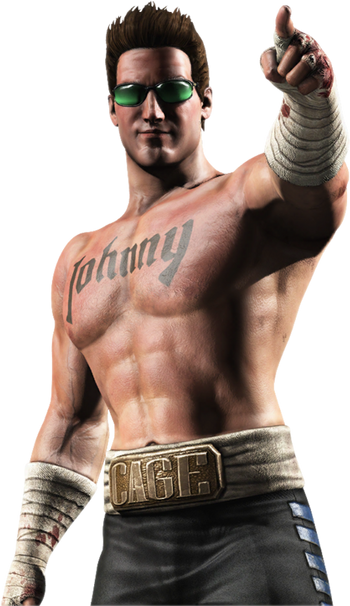 | | | |
| --- | --- | --- |
| " | Its game over man. | " |
| | ~ Johnny Cage | |
Johnny Cage is a character from the video game series, Mortal Kombat.
Fanon Wiki Ideas So Far
Battle Record
WARNING: The following tab will reveal the numbers of wins and losses for the following character. Read at your own risk.
Battle Record
Wins: 2
Losses: 1
Draws: 0
Possible Opponents
History
Death Battle Info
Background
Real name: John Carlton
Height: 6′0" (1.83 m)
Weight: 190 lbs. (86 kg)
Hollywood Movie Star
Father of Cassie Cage and ex of Sonya Blade
Fighting Style
Jeet Kune Do
Karate
Shinto Ryu
Shorin Ryu
Special Moves
Shadow Kick

Speedy powerful kick followed by a green afterimage
Enhanced version is stronger, faster, and red

Plasmic Bolt

Green orb of energy thrown at opponent
Can be thrown in an upward or downward arch
Can throw three at once at max

Split Punch

Performs the splits, then punches the opponent in the groin
Formerly didn't work on female characters
Stuns opponent briefly

Green Shadow Uppercut

Leaps into the air and performs an uppercut
Enhanced version is red and stronger

Sliding Uppercut

Does the splits, then rises into the air for an uppercut

Flipkick

Somersault kick that knocks opponents into the air
Enhanced version is red and follows up for an uppercut

Ball Buster

A parry
Triple Split Punch & elbow to back if pulled off
Just as painful as the name implies
Fatalities
Deadly Uppercut

Uppercuts the opponent's head off
Can knock off two additional heads... somehow

Torso Rip

Grabs opponent and tears their torso off

Torso Kick/Forceful Shadow Kick

Shadow Kick that tears through the torso

Backbuster

Lifts opponent over head and bends them over his shoulders, causing them to explode

Brain Rip

Punches opponent in stomach, then rips brain from their head

Super Split Punch

Punches groin multiple times before punching opponent in half

Heads Up

Deadly Uppercut and Torso Rip combined

And The Winner Is...

Chops head in half, then plants a trophy in between
Here's Johnny!

Turns opponent around, digs hands into their back and rips chest open, then peeks through the hole and quotes the line from "The Shining".
Little Improv

Slams opponent to the ground face first, then repeatedly mashes their face into the ground
X-Rays
Kasting Kall

Kicks opponent in jaw, breaking cheekbones and jaw, then slams head into knee, shattering the skull, then delivers a Flipkick to opponent's chin
Feats
Can punch you so hard in the balls your legs fall off
Can deliver an uppercut strong enough to decapitate someone

And sometimes do this three times on the same opponent (somehow).

Held his own against Goro alongside Sonya and Kano
Survived against Sindel
Tackled Scorpion off of a flying helicopter and lived.
Defeated Scorpion, Sub-Zero, Smoke and Jax Briggs (as revenents)
Single-handedly defeated Shinnok (Green Energy)
Survived Raiden's attack
Surprisingly a good father
Faults
Gallery
Trivia
Ad blocker interference detected!
Wikia is a free-to-use site that makes money from advertising. We have a modified experience for viewers using ad blockers

Wikia is not accessible if you've made further modifications. Remove the custom ad blocker rule(s) and the page will load as expected.