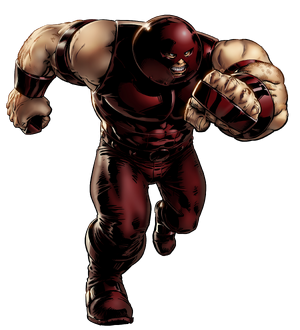 | | | |
| --- | --- | --- |
| " | I'm the Juggernaut, bitch! | " |
| | ~ Juggernaut | |
Juggernaut is a heavy-hitting villain of Marvel Comics. He will appear in a episode of DBX where he will battle The Hulk.
Fanon Wiki Ideas So Far
Battle Record
WARNING: The following tab will reveal the numbers of wins and losses for the following character. Read at your own risk.
Battle Record
Wins: 3
Losses: 1
Draws: 0
​ Possible Opponents
History
Cain Marko is the step-brother of Charles Xavier, having resented Charles to the point of making his life a living Hell before he enlisted into the military. By chance, Marko a hidden temple dedicated to Cyttorak and found a ruby that awoken a dormant mutant ability while being transformed into an avatar of the forgotten deity's destructive rage. After spending time as a member of Project Weapon X, the renamed Juggernaut proved to a thorn in the side of various superheroes that include the X-Men.
Death Battle Info
Due to the Ruby of Cyttorak amplifying his abilities, Juggernaut is capable of shattering mountains and Lifting and using buildings as weapons. He is also immune to psychic attacks, having originally been able to block it with his helmet.
Powers & Abilities
Indestructibility and Immortality

Has rarely been killed or even harmed by conventional means
Instant Healing Factor

Psychic Resistant Armor
Superhuman Strength

While it's debatable how strong Juggernaut actually is, Juggernaut is still considered to be one of the strongest characters in Marvel comics

Forcefield projection
Can create new pieces of armor to replace any missing armor
Superhuman jumping
Unstoppable when he charges
Feats
Flaws\Losses
It is possible for an opponent with sufficient physical or mystical strength of their own to turn Juggernaut's unstoppable movement against him, by redirecting his motion so that he gets stranded in a position in which he has no escape.
He is vulnerable to sufficient mental abilities when his helmet is completely removed (weakness was recently removed thanks to a metal skullcap placed under his helmet and after Cyttorak repowered him to be more resistant.)
Can still be temporarily knocked out or incapacitated.
Juggernaut's unstoppable momentum was once been stopped by Hulk, who was enhanced with Celestial Technology.
Other godly, cosmic or magical characters can challenge or overpower Juggernaut's defenses.

Mjolnir can drain Juggernaut's magical barrier.

Was defeated by Spiderman on multiple ocassions.
Has been defeated by Hulk multiple times.
Has been defeated by the X-Men multiple times; frequently by telepathic attacks (like from Professor X or Jean Grey).
Was easily defeated by Onslaught.