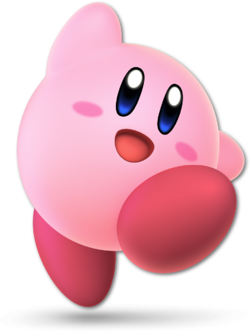 Kirby is the main hero of the same name media franchise. He previously fought Majin Buu in the 40th episode of Death Battle, Kirby VS Majin Buu. He also fought Pac-Man in an episode of One Minute Melee.
Fanon Wiki Ideas So Far
As Yarn Kirby
Battles Royale
With Meta Knight and King Dedede
With Starfy
Battle Record
WARNING: The following tab will reveal the numbers of wins and losses for the following character. Read at your own risk.
Battle Record
Wins: 14
Losses: 3
Draws: 2
​Possible Opponents
History
A thousand years ago, the star warriors have defended the universe from the infamous and powerful Nightmare. However, they ended up dying, leaving only two left. The heroic Meta Knight, who fought in the war and barely made it out with his life and our famous pink hero, Kirby, who avoided the entire war in a star spaceship, and crash-landed on the planet Popstar. Kirby has fought and battled enemies and protected Dreamland from disasters and his arch-enemy, King Dedede. Kirby is famously known for inhaling his enemies and copying their abilities. He also uses his warp star for transportation, which can move faster than light, though he can fly on his own for long periods of time.
Death Battle Info (Official)
Background
Arsenal
Copy Abilities
Strengths and Feats
Death Battle Info (Fanon)
Arsenal
Copy Forms
By eating an opponent or certain item, Kirby can temporary power-up into a more powerful form. Kirby can also use an Ability Scroll to create two-part combinations. In Kirby 64, there were many mix copy abilities which can be obtained by inhaling two objects/enemies with different copy abilities at once. The list of mix abilities can be found on this chart:
Normal abilities:
Strengths and Feats
Faults
Faults
Gallery
Trivia