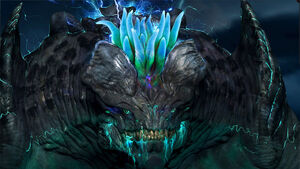 Leatherback is a Kaiju from the 2013 movie, Pacific Rim.
Fanon Wiki Ideas So Far
Battles Royale
Battle Record
WARNING: The following tab will reveal the numbers of wins and losses for the following character. Read at your own risk.
Battle Record
Wins: 1
Losses: 0
Draws: 0
Possible Opponents
History
Death Battle Info
Background
Breach Date: January 8, 2025
Height: 81.3 meters
Weight: 2,900 tons
Named after the leatherback sea turtle
Name could be derived from the term used to describe adult gorillas, silverback
Arsenal
Electromagnetic emission
Armor plated skin
Strengths and Feats
Destroyed Cherno Alpha
Category IV Kaiju
Weaknesses
Spinal Cavity
Low toxicity could be a weakness
Gallery
Trivia
Ad blocker interference detected!
Wikia is a free-to-use site that makes money from advertising. We have a modified experience for viewers using ad blockers

Wikia is not accessible if you've made further modifications. Remove the custom ad blocker rule(s) and the page will load as expected.