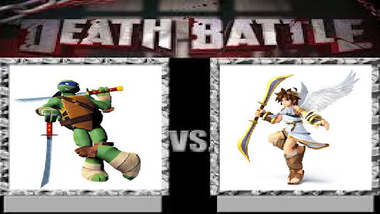 Leonardo vs Pit is a What-if? Death Battle.
Interlude
Wiz: Earlier in Death Battle, we pitted Leonardo against Zitz and Leo came out on top as always.
Boomstick: But is Leo ready to step up against certain foes?
Wiz: We will find out as we have Leo fight against Pit, leader of Palutena's Army.
Boomstick: He's Wiz and I'm Boomstick!
Wiz: And it's our job to analyze their weapons, armor, and skills to find out who would win a Death Battle.
Leonardo
Leonardo: 'A true ninja is a master of himself and his environment, so don't forget: We're Turtles!'
Pit
Pit: 'Men, we face the worst carrot-tastrophe of our time. Catch them, now!'
Fight
Results
Wiz: The winner is Pit
Trivia
Who would you be rooting for?