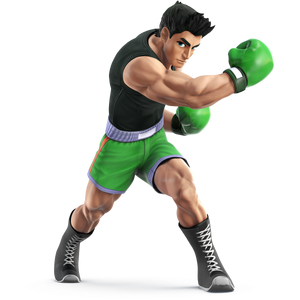 | | | |
| --- | --- | --- |
| " | Right On! | " |
| | ~ Little Mac | |
Little Mac is the main protagonist of the Punch-Out!! series of video games. He appeared in the Season 2 finale of One Minute Melee where he brawled with Ippo Makunouchi.
Fanon Wiki Ideas So Far
Battle Record
WARNING: The following tab will reveal the numbers of wins and losses for the following character. Read at your own risk.
Battle Record
Wins: 4
Losses: 6
Draws: 0
History
Death Battle Info
Background
Name: Little Mac
Age: 17
Height: 5'7"
Weight: 107 lbs
Boxing Skills
Trained by former professional boxer Doc Louis.
Swift and agile.
Focuses on speed over power.
Relies on jabs, hooks, feints and uppercuts.
Guarding.
Blocks attacks.
Can guard his face and body.
Sometimes gets a second wind.
Smash Attacks
Straight Lunge
Jolt Haymaker
Rising Uppercut
Launches Mac upward with a corkscrew motion.
Hits multiple times.
Poor vertical distance.
Slip Counter
Counters physical attacks.
More likely just another way of dodging and then countering.
Mindset and Physicality
Tactically and strategically inclined.
Focuses on exploiting enemy signs.
Strong enough to damage Bald Bull and Mike Tyson.
Fast enough to land strikes on Piston Honda and Great Tiger.
Tough enough to take a few hits from Mr. Sandman, Super Macho Man and Donkey Kong.
Star Punch
Passed down by its inventor Doc Louis.
Gained by hitting opponents at certain times.
Extremely powerful.
Can store up to 3 Punches.
Charging and releasing all of them results in a super powerful uppercut.
Little Mac will lose all of his Star Punches if he's hit.
Giga Mac
Transforms after Giga Mac Juice bar is filled by hitting the opponent at certain times.
Trades speed for power.
Can earn Star Punches just by taunting.
Lacks stamina.
Feats
Has become Boxing Champion several times.
Punched Sandbag through a 2nd story window (Smash canon only).
Weaknesses
While tough, Little Mac can only take so much punishment before he goes down. His HP compared to other professional boxers is below average.
Getting hit results in the loss of all his Star Punches.
Relies on speed over power.
Giga Mac is comparatively slower and more predictable.
Good on the ground, terrible in the air.
No projectiles or long ranged options.
Ad blocker interference detected!
Wikia is a free-to-use site that makes money from advertising. We have a modified experience for viewers using ad blockers

Wikia is not accessible if you've made further modifications. Remove the custom ad blocker rule(s) and the page will load as expected.