Makuta Teridax vs Megatron is a What-If Death Battle, featuring Makuta Teridax from the BIONICLE series, and Megatron from the Transformers series.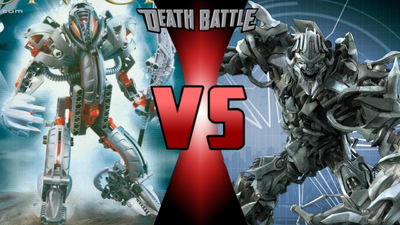 Description
BIONICLE vs Transformers! Which evil overlord dominator will win?
Interlude
Wiz: True evil is many things, but mostly persistent: Always lurking, always scheming, and always finding a way to come back from beyond the shadows.
Boomstick: A description more than fit to define these two menacing, evil mechanical overlords.
Wiz: Megatron, the indomitable leader of the Decepticons.
Boomstick: And Teridax, the lord of shadows from Bionicle. He's Wiz and I'm Boomstick...
Wiz: And it's our job to analyze their weapons, armor, and skills, to find out who would win... a DEATH BATTLE.
Makuta Teridax
Megatron
Fight
Results