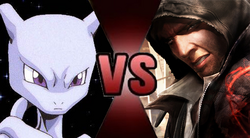 Mewtwo vs. Alex Mercer is a What-If? episode of Death Battle.
Description
Pokémon vs PROTOTYPE! Two Anti-Heroes created from Science. Will Mewtwo's psychic abilities pull him the win or will Alex Mercer consume Mewtwo, becoming a part of him?
Interlude
Mewtwo
Alex Mercer
DEATH BATTLE!
Who do you think would win?