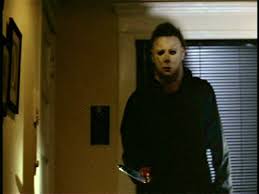 "

Michael Myers, age 10: [Crying] I wanna go home.
Dr. Samuel Loomis: You can't go home.
Michael Myers, age 10: Why?
Dr. Samuel Loomis: Because you've done terrible things.

"
~ From Halloween (2007)
Michael Myers is the main antagonist of the Halloween series of movie (except for the third movie, Halloween III: Season of the Witch).
Fanon Wiki Ideas So Far
Battles Royale
Battle Record
WARNING: The following tab will reveal the numbers of wins and losses for the following character. Read at your own risk.
Battle Record
Wins: 0
Losses: 3
Draws: 0
Possible Opponents
History
Michael Audrey Myers was born in the small town of Haddonfield, Illinois on October 19, 1957 to Donald Myers and Edith Myers.
Death Battle Info
Background
Full Name: Michael Audrey Myers
Age: 21-45
Occupation: Serial Killer
Primary location: Haddonfield, Illinois
Killed his older sister
Powers and Abilities
Superhuman Strength
Near Immortality
Supernatural Survivability
Weapons
Ad blocker interference detected!
Wikia is a free-to-use site that makes money from advertising. We have a modified experience for viewers using ad blockers

Wikia is not accessible if you've made further modifications. Remove the custom ad blocker rule(s) and the page will load as expected.