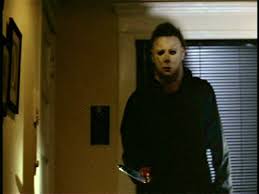 "

Michael Myers, age 10: [Crying] I wanna go home.
Dr. Samuel Loomis: You can't go home.
Michael Myers, age 10: Why?
Dr. Samuel Loomis: Because you've done terrible things.

"
~ From Halloween (2007)
Michael Myers is the main antagonist of the Halloween series of movie (except for the third movie, Halloween III: Season of the Witch).
Fanon Wiki Ideas So Far
Battles Royale
Battle Record
WARNING: The following tab will reveal the numbers of wins and losses for the following character. Read at your own risk.
Battle Record
Wins: 0
Losses: 3
Draws: 0
Possible Opponents
History
Michael Audrey Myers was born in the small town of Haddonfield, Illinois on October 19, 1957 to Donald Myers and Edith Myers.
Death Battle Info
Background
Full Name: Michael Audrey Myers
Age: 21-45
Height: 6'2"
Weight: 215 lbs
Occupation: Serial Killer
Primary location: Haddonfield, Illinois
Killed his older sister
Powers and Abilities
Superhuman Strength
Near Immortality
Supernatural Survivability
Can disappear quickly out of sight and appear at will to scare/surprise the victim
Master of stealth
Weapons
Feats
Has killed over 130 victims in the Halloween series (also counting reboot films and comics)
Can lift/carry large tombstones and adult humans with ease
Escaped Smith's Grove Sanitarium
Survived being stabbed in the heart by his own knife, sliced by a chainsaw, being hit by a truck at 50 mph, being hanged/shocked, set on fire, falling off a balcony, speared in the chest, brutally beat with wood plank/large steel pipe, explosions, etc.
Dodged quick knife swings
Appeared in Dead by Daylight and Call of Duty: Ghosts