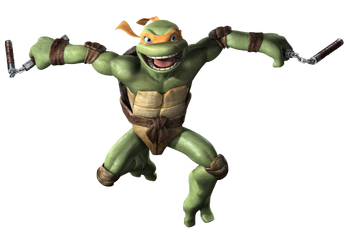 Michelangelo is the party dude of the
Teenage Mutant Ninja Turtles
. He previously fought
his
three
brothers
in the 6th episode of Death Battle,
Teenage Mutant Ninja Turtle Battle Royale
.
Fanon Wiki ideas so far
Battle Royales
With The Teenage Mutant Ninja Turtles
Completed Fights
Battle Record
Possible Opponents
Death Battle Info:
Background:
Master of Ninjitsu, Nunchakus, Oriki-Gusari, & Whirling Pizzas
Nunchucks:
Also called 'Nunchakus'
Overcomplicated
Looks Cool? Maybe?
Farming Tool
Good for strangling
Obviously, Mikey strangles foes off-screen
Death Battle Fanon Info:
Background:
Height: 5'2"
Weight: 180 lbs.
Master of Ninjitsu, Nunchakus, Oriki-Gusari, & Whirling Pizzas
Party Dude
Favorite Color: Orange
The youngest of the turtles
Skills and Weapons:
Most unpredictable and talented fighter of the team
Master of Nunchakus
Weakness:
He is quite lazy (Watches t.v, plays games, eats pizza in his free time)
Lack of discipline and is not the brightest of the turtles
Can leaves himself wide open or lets his guard down
Clowns around most of the time
Can get easily distracted (lacks attention and focus)

Looks at unimportant things thats around him
His head is in the clouds (daydreams)
Trivia
Gallery
Ad blocker interference detected!
Wikia is a free-to-use site that makes money from advertising. We have a modified experience for viewers using ad blockers

Wikia is not accessible if you've made further modifications. Remove the custom ad blocker rule(s) and the page will load as expected.