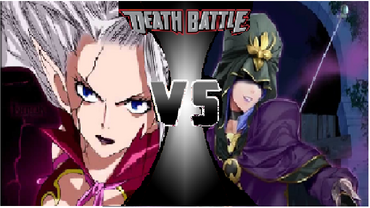 Mirajane Strauss vs Caster/Medea is a What-if Death Battle between Mirajane from Fairy Tail vs Caster-class Servant from Fate/Stay Night.
Description
Witch and Demon, two Woman fight by Magecraft and Dark to find who will be a better mage.
Interlude
Wiz: Darkness, an element lives to make your scare,...
Boomstick: But now, it'll be a weapon on the battle of two woman, a Servant and a Mage.
Wiz: And it's our job to analyze their armor, weapons, and skills to find out who would win a Death Battle.
Mirajane Strauss
Medea
Intermision
DEATH BATTLE!
Conclusion