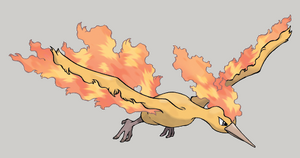 Moltres is a Legendary Pokémon from the same title series. It is one of the three Legendary birds of Kanto, and is unusual among Pokémon in that it has not evolved from any other Pokémon, nor does it evolve into any other Pokémon.
Fanon Wiki Ideas So Far
Battles Royale
Battle Record
WARNING: The following tab will reveal the numbers of wins and losses for the following character. Read at your own risk.
Battle Record
Wins: 2
Losses: 1
Draws: 0
History
Death Battle Info