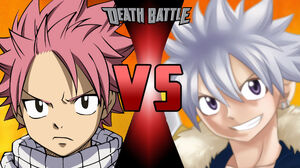 Natsu Dragneel VS Haru Glory is a What-if? Death Battle, featuring Rave Master's
Haru Glory
and Fairy Tail's
Natsu Dragneel
.
Description
Fairy Tail VS Rave Master! Two hard-headed, explosive fighters enter the ring together, but only one will leave alive. Can the Fire Dragon Slayer slay the Heir to Rave? Who will win? Who will die?
Interlude
Natsu
Haru
Death Battle
Chesknight
Results
Ad blocker interference detected!
Wikia is a free-to-use site that makes money from advertising. We have a modified experience for viewers using ad blockers

Wikia is not accessible if you've made further modifications. Remove the custom ad blocker rule(s) and the page will load as expected.