Nightwing VS The Winter Soldier is a What-If? Death Battle created by WhackAttack01. Nightwing will be facing off against The Winter Soldier.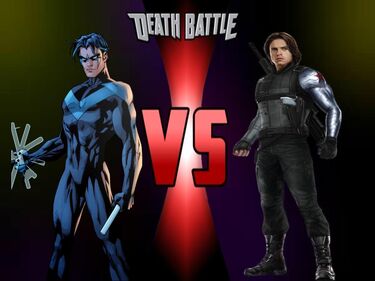 Description
The Winter Soldier vs DC Comics! The battle of superhero sidekicks begins! Will Nightwing prove he has what it takes to be a leader, or will The Winter Soldier take the upper hand?
Interlude
(Cue-: Invader's - WWE Theme)
Wiz: What does a partner want more? To become like their heroic partner-
Boomstick: Or become a merciless villain and betray their partner.
Wiz: Nightwing. The man who fights crime alongside the dark knight.
Boomstick: And The Winter Soldier. The man who FOUGHT alongside Captain America, but then tragically fell off a train down a cliff, losing an arm, then later brainwashed by the villains.
Wiz: He's Boomstick and i'm-- wait thats not right.
Boomstick: *AHEM*... He's Wiz and i'm Boomstick.
Wiz: And it's our job to analyze their weapons, armor, and skills to find out who would win A DEATH BATLE.
The Winter Soldier
Nightwing
Pre-Death Battle
Wiz: Alllllright, lets end this debate once and for all.
Boomstick: ITS TIME FOR A DEATH BATTLLLLLLLLLLLLLLE!
Death Battle
Results
</tabber>