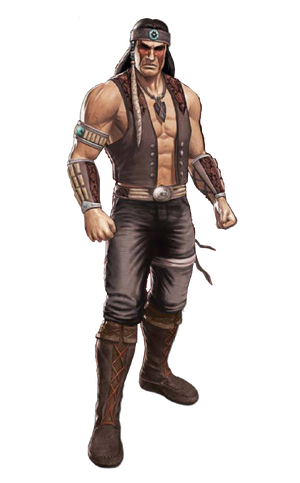 Nightwolf
is a character from
Mortal Kombat
.
Fanon Wiki Ideas So Far
Possible Opponents
History
Death Battle Info
Can create energy weapons such as tomahawks and arrows
Can summon bolts of lightning
Able to melt off an opponent's skin with a beam of light
Great leadership skills
As a Sin Eater, he absorbed his tribe's evil into his own soul, giving him immense power at the cost of corrupting it
Defeated Noob Saibot, Quan Chi, Cyrax and Sektor
Possibly killed Sheeva
Killed Sindel in a suicide attack
Defeated by Scorpion, Raiden, and Kenshi
Currently lives as a wraith
Ad blocker interference detected!
Wikia is a free-to-use site that makes money from advertising. We have a modified experience for viewers using ad blockers

Wikia is not accessible if you've made further modifications. Remove the custom ad blocker rule(s) and the page will load as expected.