Niko Bellic vs John Marston is a What-If? episode of Death Battle.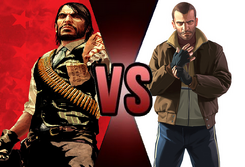 Description
Grand Theft Auto vs. Red Dead Redemption! Rockstar's top Gunmen goes toe-to-toe on each other to see who is the greatest.

when it comes to rockstar they make iconic characters but none as these to. john marston the man out for revenge and niko bellic the the best of gta, im wizard and hes boomstick and its are job to analize there weapons armor and skills to fined out who would win a...DEATH BATTLE
Niko Bellic
John Marston
DEATH BATTLE!
Who do you think would win?