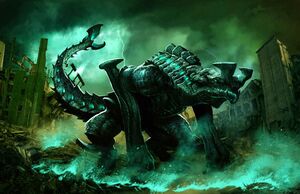 Otachi
is a kaiju from the 2013 movie,
Pacific Rim
.
Fanon Wiki Ideas So Far
History
Death Battle Info
Background
Breach Date: January 8, 2025
Height: 63 meters
Weight: 2690 tons
Translation: Big Sword
Weapons
Flight
Acid sack
Secondary lifeforce
Severe toxicity
Clawed Tail can move and attack opponents if severed
Feats
Destroyed Crimson Typhoon
Carried Gipsy Danger into 50,000 feet into the atmosphere without tiring
Weaknesses
Underbelly
Horn extrusions
Ad blocker interference detected!
Wikia is a free-to-use site that makes money from advertising. We have a modified experience for viewers using ad blockers

Wikia is not accessible if you've made further modifications. Remove the custom ad blocker rule(s) and the page will load as expected.