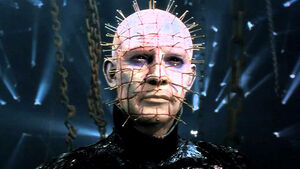 "

Pinhead: Unbearable, isn't it? The suffering of strangers, the agony of friends. There is a secret song at the center of the world, Joey, and its sound is like razors through flesh.
Joey: I don't believe you.
Pinhead: Oh come, you can hear its faint echo right now. I'm here to turn up the volume. To press the stinking face of humanity into the dark blood of its own secret heart.

"
~ Hellraiser III: Hell on Earth
Pinhead is the main antagonist of the movie series, Hellraiser.
Fanon Wiki Ideas So Far
Possible Opponents
History
Death Battle Info
Real name: Elliot Spencer
Ad blocker interference detected!
Wikia is a free-to-use site that makes money from advertising. We have a modified experience for viewers using ad blockers

Wikia is not accessible if you've made further modifications. Remove the custom ad blocker rule(s) and the page will load as expected.