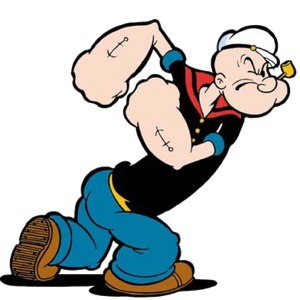 | | | |
| --- | --- | --- |
| " | I'm strong to the finich, 'cause I eats me spinach. I'm Popeye the Sailor Man! (Toot! Toot!) | " |
| | ~ Popeye's theme song | |
Popeye is the main protagonist of the same title franchise.
Fanon Wiki Ideas So Far
Battles Royale
Battle Record
WARNING: The following tab will reveal the numbers of wins and losses for the following character. Read at your own risk.
Battle Record
Wins: 6
Losses: 3
Draws: 0
Possible Opponents
History
Death Battle Info
Background
Aliases: Popeye the Sailorman
Age: 42
Height: 5'6"
Occupation: Sailor, Boxer, Carpenter, Spinach Farmer, Restaurant Owner, Actor/Performer, Gym Instructor, Black Smith, etc.
Affiliation: The Navy, Sweethaven (Hometown)
Likes: Spinach, Olive Oyl, Sweet Pea, fighting, sailing, fishing, adventure, animals, freedom, the USA, and Superman comics
Feats
Absurd feats of strength

Punched Bluto so hard that he circled the Earth (Blow Me Down!: 1933)
Punched a ship's mast so hard that it turned into clothing pins
Punched a fish so hard that it turned into food cans
Punched a High Striker game so hard that the weight knocked off the bell and continued to fly into the moon; giving the moon a black eye.
Can throw baseballs with precise accuracy simply by flexing his bicep
When Bluto cut down a bridge, Popeye simply dragged the landmass towards him to close the gap.
Punched a tree so hard it turned into a coffin for Bluto
Destroyed an oncoming train with one punch
Fought and defeated a lightningbolt; a feat so impressive that it scared away the stormclouds.

Virtually invincible

An iron maiden's spikes bent when trying to crush him.
A sniper tried to headshot Popeye; only for the bullet to bounce back and hit the sniper.
While walking under a Pile Driver the machine struck Popeye directly onto his crown. But the recoil of the impact destroyed the machine while Popeye was oblivious to the event.
Unharmed by lightning strikes to the head
After getting completely vaporized by a laser, Popeye re-materialized by eating spinach: SOMEHOW.
Weaknesses
Before eating his spinach; Popeye's strength is significantly weaker. Some depictions of Popeye are not superhuman without spinach.

The effects of the spinach are temporary; (although there is no constant time limit).

His spinach can power-up his opponents as well; any enemy able to steal his spinach will be able to mimic Popeye's absurd feats of power.
Popeye's later depictions are not as absurd as his original cartoons/comics.
Popeye is very aggressive and is willing to pick a fight, even against obviously stronger opponents.
Gallery.
Trivia
The official words to Popeye's song can be found at: [1]