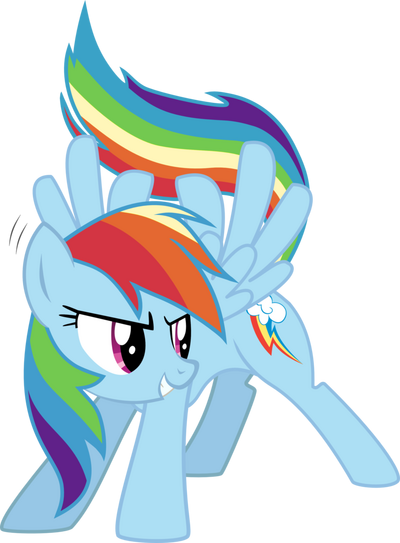 | | | |
| --- | --- | --- |
| " | Here we go! | " |
| | ~ Rainbow Dash to THE WORLD | |
Rainbow Dash is a pegasus pony from My Little Pony: Friendship is Magic. She previously fought Starscream in the 17th episode of Death Battle, Starscream VS Rainbow Dash.
Fanon Wiki Ideas So Far
Battle Royale
Completed Fights
Battle Record
WARNING: The following tab will reveal the numbers of wins and losses for the following character. Read at your own risk.
Battle Record
Wins: 2
Losses: 1
Draws: 0
History
Rainbow Dash is a cocky and impatient, blue pegesus, a pony with wings and can control weather, from the city in the the sky, Cloudsdale. She is a weather patroler of Ponyville and dreams to become a Wonderbolt, a team of extremely fast pegesi that performs for entertainment.
Death Battle Info (Official)
Background
Height: Approx. 4'
Flight School dropout
Weather Manager
Winner of 'Best Young Fliers Competition'
Unnatural durability
Black Belt in Karate
Weather Control
Can stand on Clouds
Can manipulate Clouds
Can force lightning & rain from clouds
Managerial position proves mastery in this field
Tornado creation and control
Movelist
Super Speed Struct
Fantastic Filly Flash
Cloud Barrel Weave
Cloud Spinning
Rainblow Dry
Buccaneer Blaze
Attributes
Brash & Arrogant
Extremely Competitive
Brave & Loyal
Athletic on both ground & air
Top Speed: 3,600 mph
Hypersonic
Speed of Mach 10
Top Speed: 7,600 mph
Creates a Rainbow
Powerful Shockwave
Can Pull 90 degree turns
Death Battle Info (Fanon)
Gallery
Trivia
Youtuber ProJared created the idea for Rainbow Dash vs Starscream. Initially Screwattack thought it was a joke, but took it seriously after discovering Rainbow Dash's power.