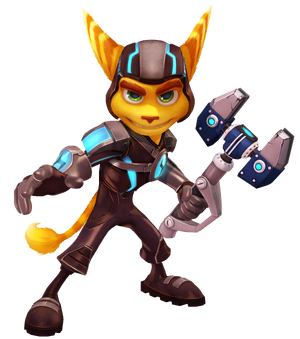 Ratchet
is one of the main characters of the
Ratchet & Clank
series. He and
Clank
previously fought 
Jak
 and
Daxter
in the 60th episode of
Death Battle
,
Ratchet & Clank VS Jak & Daxter
.
Fanon Wiki Ideas So Far
Battle Royale
With Clank
With Playstation-verse
With Playstation All-Stars-verse
Completed Fights
Possible Opponents
History
Death Battle Info (Official)
Background (Ratchet)
Species: Lombax
Weight: 97.5 lbs/44.3 kg
Born: Around Year 5339
Naturally-gifted mechanic
Given the code-name "Dead Meat" by Captain Qwark
Has a vendetta against wooden crates
Background (Clank)
Real name: XJ-0461
Birthday: October 26, 5354
Height: 2'2"/66 cm
Weight: 17 lbs/7.7 kg
The son of an interdimensional being and conveyor belt
Favorite number: 83,000,000,004.7
Weapons
Feats
Can HALO jump without a parachute
Won countless gladiator battles
Survived many crash landings, including one riding an asteroid
Dodged a laser blast at close quarters
Downed a gigantic alien which could destroy skyscrapers in one blow
Death Battle Info (Fanon)
Background
Ratchet
Species: Lombax
Age: 25
Birth Year: 5339
Height: 5'1"
Weight: 97.5 lbs (As of Deadlocked/Gladiator)
Clank
Real Name: XJ-0461
Species: Robot/Zoni
Birth Year: 5354
Age: 10
Height: 4'2"
Equipment
Nanotech

Found within a lot of technology in the Ratchet and Clank universe
Can repair wounds acquired on their adventures
Finite amount
Armstrong approved! (Nanomachines, son!)

Armor

Reduces damage (Call the presses)
Best armor is the Chameleon Armor

The "RYNO of armor"
Damage reduced by 96%

Hoverboots

Engineered by the Lombax
Allows the users to move quickly across areas using ionic propulsion
Can cover a city block in a couple of seconds

OmniWrench 8000

A regular wrench, often used by Ratchet to bludgeon his enemies
Ratchet can jump up and slam the wrench down to push enemies back with the Hyper-Strike
The wrench can extend, though it isn't often utilized except when using the Hyper-Strike
The wrench can be thrown and come back like a boomerang with the Comet-Strike

The magnetism on the wrench can attract bolts
Weapons
Physical Feats
Strength
Speed

Are used to dodging lasers, gunfire, etc. from enemies
With his hover boots, he can clear city blocks in seconds

Endurance/Durability
Feats
Faults
Was murdered by Alister (Clank went back in time to reverse this incident).
Ad blocker interference detected!
Wikia is a free-to-use site that makes money from advertising. We have a modified experience for viewers using ad blockers

Wikia is not accessible if you've made further modifications. Remove the custom ad blocker rule(s) and the page will load as expected.