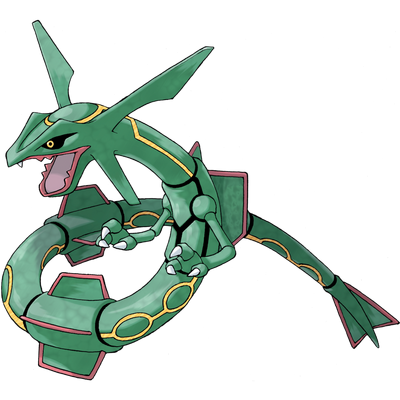 Rayquaza
is a Legendary Pokemon from the
Pokemon
series, introduced in
Pokemon Ruby
and
Pokemon Sapphire
as the leader of the Hoenn legendary trio.
Fanon Wiki Ideas So Far
Battles Royale
Battle Record
WARNING: The following tab will reveal the numbers of wins and losses for the following character. Read at your own risk.
Battle Record
Wins: 2
Losses: 2
Draws: 0
Possible Opponents
History
Death Battle Info
Legendary Pokemon: Master of the Weather Trio
Dragon / Flying
Stats
HP= 105
Attack= 150
Defense= 90
SpAtk= 150
SpDef= 90
Speed= 95
Total= 680
Mega
HP= 105
Attack= 180
Defense= 100
SpAtk= 180
SpDef= 100
Speed= 115
Total=780
Moves
Twister
Scary Face
Ancient Power
Rest
Extreme Speed
Dragon Dance
Fly
Outrage
Feats
Tied with Mega Mewtwo for the highest Base Stat Total of any pokemon: 780.

This outclasses even Arceus who only has a base stat total of 720, despite Arceus being the creator of the Pokemon universe

Mega Rayquaza is the only Gen 6 pokemon that is in the unique 'Anything Goes' tier in tournament play; a tier so high that it is basically banned from any tournament.
Defeated Deoxys
Stopped Groundon and Kyogre from destroying the Earth multiple times.
Lives comfortably in the upper atmosphere of Earth.
Faults
Ice attacks do 4x damage to Rayquaza.
Rock, Dragon and Fairy attacks do 2x damage to Rayquaza
Lost to Diddy Kong and Fox McCloud (Smash Bros Brawl)
Gallery