Razputin 'Raz' Aquato
is the main protagonist of the
Psychonauts
.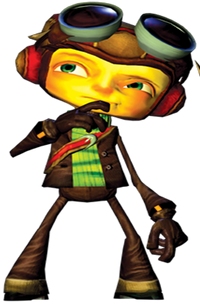 Fanon Wiki ideas so far
Possible Opponents
Lucas (Mother/Earthbound)
History
Death Battle Info
Background
Height: Unknown
Weight: Unknown (Around 75 lbs)
Age: 10
Psychic Powers
Psychic Fists
Psychic Bubble

Allows double jump
Can work as a parasol
Can ram into opponents

Clairvoyance
Mind barriers
Mind Grenades

Clouds minds
Turn opponents against each other

Limited Invisibility
Fires a blast of psychic energy from his head
Pyrokinesis
Offensive shield
Telekinesis
Acrobatics
Feats
Weaknesses
Gallery
Ad blocker interference detected!
Wikia is a free-to-use site that makes money from advertising. We have a modified experience for viewers using ad blockers

Wikia is not accessible if you've made further modifications. Remove the custom ad blocker rule(s) and the page will load as expected.