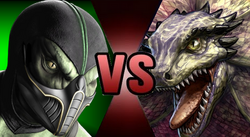 Reptile vs. Aeon Calcos is a What-If? episode of Death Battle.
Description
Mortal Kombat VS Soul Calibur! Two Reptilian Warriors duke it out? Will Reptile melt Aeon Calcos' to the bone with his acid or will Aeon Calcos slaughter Reptile with his axes?
Interlude
Reptile
Aeon Calcos
Fight
Results
Trivia
Who would you be rooting for?