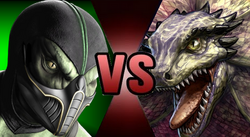 Reptile vs. Aeon Calcos is a What-If? episode of Death Battle.
Description
Mortal Kombat VS Soul Calibur! Two Reptilian Warriors duke it out? Will Reptile melt Aeon Calcos' to the bone with his acid or will Aeon Calcos slaughter Reptile with his axes?
Interlude
Reptile
Aeon Calcos
Fight
Results
Trivia
Who would you be rooting for?
Ad blocker interference detected!
Wikia is a free-to-use site that makes money from advertising. We have a modified experience for viewers using ad blockers

Wikia is not accessible if you've made further modifications. Remove the custom ad blocker rule(s) and the page will load as expected.