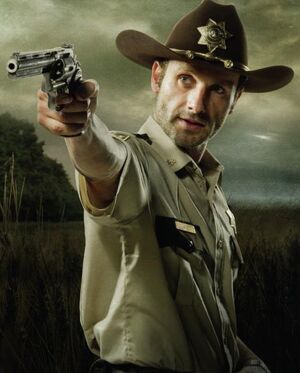 | | | |
| --- | --- | --- |
| " | They'll feel pretty stupid when they find out they're f***ing with the wrong people. | " |
| | ~ Rick Grimes | |
Rick Grimes is one of the main protagonist of the Walking Dead comic book and television series.
Fandom Wiki Ideas So Far
Battle Record
WARNING: The following tab will reveal the numbers of wins and losses for the following character. Read at your own risk.
Battle Record
Wins: 1
Losses: 1
Draws: 0
Possible Opponents
Nick Fury (Marvel Comics)
Walter White (Breaking Bad)
History
Death Battle Info
Background
Former Deputy from King County, Georgia
Favorite thing to yell: CORAL
Had a wife (Whore) and son (Annoying at first)
Worked with close friend Shane Walsh
Needs a hair cut
Has a Sweet hat
in season 2 he dodged a Wrench so he can obviously dodge a ball
Weapons
Colt Python revolver (TV Series)
HK Mark 23 pistol (Comic Series)
Norinco Type 56 Assault Rifle (TV Series)
Smoke Grenades (TV series)
IMI Uzi (TV Series)
Frag Grenade (TV Series)
Riot Gear (Comic Series)
Hunting Rifle (TV Series)
Baseball bat (TV Series)
Berretta M9 (TV Series)
Axe (TV Series)
Machete with a red handle (TV Series)
Hatchet (TV Series)
Knife (TV Series)
Hand Replacement (Comic Series)
Feats
Survived having his hand cut off
Killed countless People & Zombies
Survived a Shot which ended up putting him in a coma
Defeated Negan
Took a beating from the Governor
Tied in h2h combat agenst Shane
Beat up then later that day killed Pete Anderson
Was thrown into a pit without any weapons then killed the Super Walker (A Zombie covered in metal and spikes) with his bare hands
Beat Tyreese to a Pulp
was fast enough to Run from the woods to Hershel's farm in just a few minutes while carrying a dying Carl
Survived Terminus
Has such good aim he can shoot individual fingers off of people in complete darkness with a Colt Python from a distance of atleast 12 feet
over powered an Insane morgan
Lead his group of survivors threw 3 different wars, several harsh Winters, A cannibal camp, Countless walker infestations of their camps, one time ever went up agenst a walker horde that was in the thousands and killed every last one.
Survived a Frag grenade explosion that sent him flying
Survived a 18+ foot drop onto solid concrete
Powers/Abilities
Awsome Leadership Skills
Great Strength
Far above average speed
Police Training
Near Superhuman marksman
Scary
his Anger can Be extremely helpful in h2h combat
Gained some minor medical training from Dr. Stevens
Literal SuperHuman level aim
Infected with the Zombie Virus (Every one in the walking dead is already infected they just need to die without damage to the brain)
Weaknesses
Overconfident
Sometimes Relies on other group members to defeat enemies
Not Very good at hand to hand combat
Ad blocker interference detected!
Wikia is a free-to-use site that makes money from advertising. We have a modified experience for viewers using ad blockers

Wikia is not accessible if you've made further modifications. Remove the custom ad blocker rule(s) and the page will load as expected.