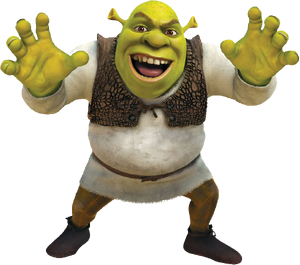 | | | |
| --- | --- | --- |
| " | What are you doing in my swamp?! | " |
| | ~ Shrek | |
"
Villager: Do you know what that thing could do? It'll grind your bones for its bread!
Shrek: Well, actually, that would be a giant. Now ogres, oh, they're much worse! They'll make a suit from your freshly peeled skin; they'll shave your liver; squeeze the jelly from your eyes! Actually, it's quite good on toast.
"
~ From Shrek (2001)
Shrek is a big green ogre and the main protagonist of the DreamWorks' movie series of the same name.
Fanon Wiki Ideas So Far
With Donkey
Battle Record
WARNING: The following tab will reveal the numbers of wins and losses for the following character. Read at your own risk.
Battle Record
Wins: 3
Losses: 7
Draws: 0
Possible Opponents
Death Battle Info
Favorite food includes: eye jelly (good on toast), onions, and weedrat stew.
Husband of Princess Fiona (which made Shrek temporarily the King of Far Far Away)
Powers and abilities
Super Strength
Farts
Burps
Wrestling Attacks
Scary Roar
Weapons
Knight Armor
Sword
Multiple Potions:

Strength Potion
Shield Potion
Happily Ever After Potion

Onions
Feats
Has defeated Farquaad, the Fairy Godmother, the Prince Charming, Rumplestiltskin and saved Princess Fiona.
Strong enough to uproot trees
Pushed down a giant potion container.
Has been able to defeat multiple knights who were he wearing armoured plating.
Broke down a metal door
Outran a dragon
His roar is strong enough to push multiple people.
Effortlessly scares away angry mobs and armies, by his mere presents.
His fart is strong enough to insta-kill people.
Can create candles out of his earwax.
Weakness
Few long ranged options.
His roar doesn't always work on his friends (or someone who doesn't see him as a threat) [1], other creatures or monsters.
Anti-social and has a low self-esteem.
Some people can resist the smell of his farts.
Trivia
Shrek has recently been involved in several memes; including a shipping with Shadow the Hedgehog, a pornographic fanfiction dubbed 'Shrek is Love', terrible ogre puns and several horror-themed games or videos with Shrek as a murderous demon. He is also the final boss of Swagnemite's meme-themed game GAME OF THE YEAR: 420BLAZEIT vs. xxXilluminatiXxx; where he uses a sniper rifle to kill anyone who enters his swamp.