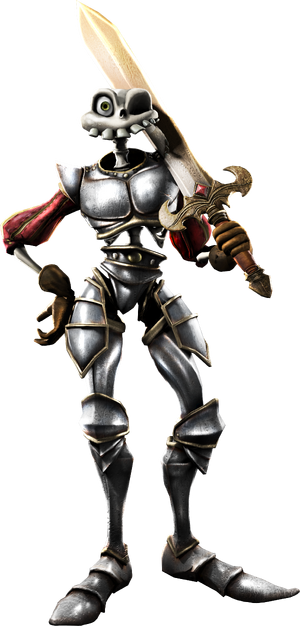 | | | |
| --- | --- | --- |
| " | I'll show you! | " |
| | ~ Sir Daniel Fortesque | |
Sir Daniel Fortesque is the main protagonist of MediEvil.
Fanon Wiki Ideas So Far
Possible Opponents
Completed Fights
History
Death Battle Info
Background
Age: Mid-thirties (technically over 600 years)
Height: Unknown
Weight: Unknown
Occupation: Knight
Weapons
Small Sword

Standard close ranged weapon

Broad Sword

Stronger than the Small Sword and has a wider range
Can be enchanted temporarily to deal more damage

Magic Sword

Second strongest sword in Daniel's inventory
Pretty much a permanently enchanted broadsword

Woden's Brand

Strongest sword Daniel has
Can kill a shadow demon in two hits

Club

Easily smashes rocks and weak walls
Can be set on fire to burn opponents
Wears down with usage

Hammer

As strong as the club but never wears down
Can be charged up to unleash a ground shockwave

Throwing Daggers

Long ranged projectiles
Carries around 250

Axe

Can be used as a melee weapon or be thrown at enemies
Always returns after being thrown

Chicken Drumsticks

Can be thrown at weak enemies to turn into food Daniel can eat for health
Carries around 30

Crossbow

Arrows it fires are stronger than the daggers
Fires arrows at a quick rapid speed
Can ricochet arrows off walls
Carries 200 arrows

Longbow

Fires slower but stronger than the crossbow
Carries around 200 arrows

Flaming Longbow

Stronger than the longbow
Can cause a burning effect on enemies
Carries around 100 flaming arrows

Magic Longbow

Strongest longbow Daniel has
Carries around 50 magic arrows

Spear

Most powerful projectile Daniel has
Carries around 30

Lightning

Can kill multiple enemies when charged, will only aim for one enemy if not carved

Golden Chalice

Fires several souls which will home onto enemies

Pistol

Must be reloaded after six shots
Has 200 bullets

Blunderbuss

Fires strong shots
Slow firing rate

Cane Stick

Close ranged weapon used for quick thrusts
Can be charged up to fire a three pronged wave that snakes on the ground towards enemies

Arm

Weakest close ranged weapon
Can be thrown at enemies
Will return after being thrown

Gatling Gun

Rapid firing and powerful
Carries a lot of ammo
Shields
Copper Shield
Silver Shield

Second strongest of all shields

Gold Shield

The strongest of all three shields
Can also absorb projectiles

All shields allow for the daring dash move
Armors
Dragon Armor

Immunity to fire
Ability to breathe fire
Can change between normal armor and dragon armor at any time
Can't use weapons or shields when worn

Super Armor

Gives Daniel extra health
Also acts like a extra life of sorts
Transformations
Dan-hand

Allows Daniel to reach small spaces
Can explode into a gas that stuns opponents

Dankenstein

Used to duel robots in boxing
Can loose limbs after being damaged to a point, while they can be recovered if all limbs are lost the Dankenstein looses it's usefulness
Anubis Stone
Allows Daniel to summon an army composed of his comrades from the Battle of Gallowmere
Daniel can also use it to heal his comrades at the cost of his health
Daniel can also use it to drain the life force of his opponents
Feats
Lead the Battle of Gallowmere
Defeated Zarok and other foes like Lord Palethorn and The Ripper
Solved The Jack of the Green's riddles and maze
Redeemed himself for his past failures and earned a place in the Hall of Heroes
Fought huge creatures like a skeleton dinosaur, elephant bots, and more
Traveled back in time
Fought against Colonel Radec
Weaknesses
Projectile weapons (except the axe and arm) run out over time
Shields break over time
Can't use weapons or shields while wearing the Dragon Armor
Woden's Brand cannot be used with a shield
Dankenstein can loose it's limbs after taking damage
While he can heal his army he must sacrifice his own health to do so
Gallery
Trivia
Ad blocker interference detected!
Wikia is a free-to-use site that makes money from advertising. We have a modified experience for viewers using ad blockers

Wikia is not accessible if you've made further modifications. Remove the custom ad blocker rule(s) and the page will load as expected.