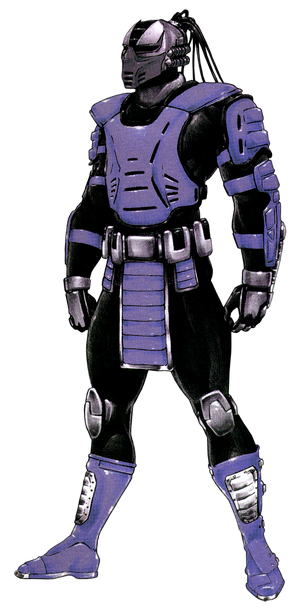 Smoke is a character from the Mortal Kombat series.
Fanon Wiki ideas so far
Fanon Wiki opponent ideas
History
Death Battle Info
Background
Real Name: Tomas Vrbada
Height: 1.85 m / 6'1"
Weight: 252 kg / 555 lbs
Model Number LK-7T2
Former member of the Lin Kuei
Enenra-turned-cyborg (Old timeline)
Enenra-turned-revanent (New timeline)
Fighting Styles
Special Moves
Death From Above
Dark Shadows
Smokeycut
Stinky Cloud
Dark Assassin
Stinky Fingers
Play Dead
Robo-Punch
Air Throw
Invisibility
Smoke Away/Towards
Teleport
Smoke Cloud
Shake
Burn Out
Fatalities
Deadly Uppercut
Teleport Punch
Smoke Death
Smoke Bomb
Armageddon
Killer Harpoon
Smoked Out
Tremor
Self-Destruction
Feats
Defeated Kitana, Kano, Reptile, Shang Tsung (as the elder Sub-Zero) and Sektor.
Overwhelmed Sub-Zero alongside Noob Saibot
Faults
Captured by Shao Kahn's forces and reprogrammed by Noob Saibot afterwards in the old timeline
Defeated by Sareena, Taven, Kitana, along with Johnny Cage, Jade, and Sektor
Killed by Sindel
Gallery
Trivia
Ad blocker interference detected!
Wikia is a free-to-use site that makes money from advertising. We have a modified experience for viewers using ad blockers

Wikia is not accessible if you've made further modifications. Remove the custom ad blocker rule(s) and the page will load as expected.