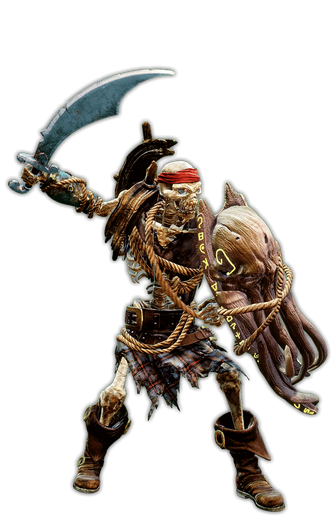 Spinal is a character from the Killer Instinct series.
Fandom Wiki ideas so far
Battle Record
History
Death Battle Info
Background
Age: 651
Height: 5'6
Weight: 120 lbs
Resurrected by UltraTech, Gargos, and Mask of the Ancients
Arsenal & Abilities
Cutlass
Shield

Buckler Shield

Can retract a large spike from center

Kraken Shield

Teleportation
Can conjure skeletal hands, arms, and skulls
Curses
Limited telekinesis
Limited shape-shifting and replication
Move Set
Dive Kick
Sliding Kick
Skeleport

Sinks into ground, then rises elsewhere

Power Devour

Holds out shield, stops melee attacks and absorbs projectiles

Searing Skull

Fires green skull from shield
Can be enhanced to curse opponent and drain some of their power

Unknown name

Fires six waves from shield

Skeleskewer

Swings cutlass downward with great force

Soul Sword

Swings sword upward twice, launching opponent

Flame Blade

Swings blade upward as it emits fire

Bone Runner
Bone Shaker
Agent of Chaos
State that grants greater power to Spectral Skulls
Allows Spectral Skulls to bounce across the field until they hit their mark
Allows Spinal to absorb his own Spectral Skulls to recharge
Ends when fifth projectile is created or Instinct Mode expires
No Mercies
Skeleton Grab - summons skeleton to pull opponent underground
Shield Stab - slashes at foe twice, emits a large spike from his shield and stabs three times
Summons two hands, hold them in place, giant skull falls and crushes foe
Levitates opponent into air, then breaks neck
Feats & Faults
Gallery
Trivia
Ad blocker interference detected!
Wikia is a free-to-use site that makes money from advertising. We have a modified experience for viewers using ad blockers

Wikia is not accessible if you've made further modifications. Remove the custom ad blocker rule(s) and the page will load as expected.