T.J. Combo is a character from Killer Instinct. He fought Balrog in the 81st episode of Death Battle.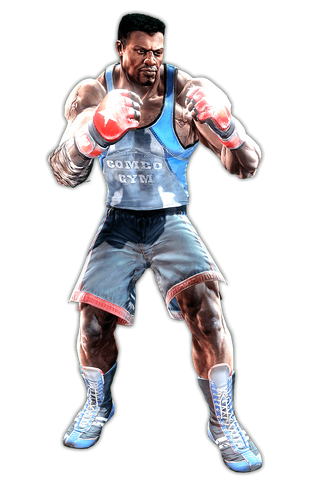 Fanon Wiki ideas so far
Possible Opponents
History
Death Battle Info (Official)
Background
Real Name: Tyler-Johnson Garrett
Height: 6'1" | 185 cm
Weight: 220 lbs | 100 kg
Age: approx. 45
Boxing Style: Out-boxing
Used cybernetic arm enhancements
Trained with Maya
Once wore an eyepatch
Techniques
Powerline
Shoot Toss
Tremor
Vortex Punch
Flying Knee
Back Step (Juke)
Last Breath
Feats
Held Heavyweight title for 20 years
Survived tearing his cybernetics out
Survived a 1,162 foot fall
Helped save the world from Gargos
Beat Fulgore Mk 02 w/o implants
Death Battle Info (Fanon)
Background
Name: T.J. "Combo" Garrett
Age: late 30's-early 40's (estimate)
Height: 6'1
Weight: 220 lbs
Previously had metal enhancements in his arms. The scars are from when T.J. ripped theses enhancements out of himself. His arms eventually healed.
Fighting Style
Mixed Martial Artist

Implements various styles
Heavily reliant on boxing
Likely to include some Muay Thai, wrestling, and kickboxing

Combines speed and power

Can cross distances pretty quickly
Combination attacks land repeated, heavy blows

Can knock around armored and large foes

Fulgore and Aganos to name a few
Movepool...
Shoot Toss

Command Grab
Grabs opponent around the midsection, turns around, then slams them hard on the ground
Can bounce opponents into the air for further combos

Tremor

An arcing jump helps cross distance
T.J. comes down to slam a fist on the ground
Creates a small tremor on impact that can trip foes
Hits high, then hits low

Vortex

Uppercut that sends opponent into the air
Cyclone: a follow-up uppercut that hits the opponent and creates a small whirlwind on his fist

Powerline

Rushes forward to plant a powerful haymaker
Useful for crossing distances
Can be canceled out or turn into a dodge-roll

Flying Knee
Tumble

Low, evasive roll
Does no damage
Useful for getting under projectiles or attacks
Glory Days...
T.J.'s Instict Mode

Super Mode that lasts about fifteen seconds

The cracks and scars down his arms glow blue
Increases his moving and attack speed
Last Breath
A trait unique only to T.J.
If KO'd with a full Instinct Meter, will get back up
Creates a shockwave on activation
Automatically activates "Glory Days"
Restores a fifth of T.J.'s health
Feats
Reigning heavyweight champion for over twenty years
Fought and defeated all three Fulgore models
Teamed up with Black Orchid to expose UltraTech's inhuman experiments

Had to match her in combat first

Defeated Ultratech's agents

Cinder is the only one who gave him a hard time

Defeated ARIA
Can take on the entire KI roster with just his fists and feet

Used to have cybernetic implants, but had them removed

Killed at least one Riptor, likely more.
Weaknesses
Not as young as he used to be
Often eager to prove himself
Close-range fighter

No projectile or long-range attacks

Cannot use Last Breath while his Instict is active or if his bar is too low
Instinct Mode is short-lived
Gallery